We are so excited to be testing out The Advanced Elements AdvancedFrame AE1009-XE Kayak. It is the Cadillac of inflatable kayaks. With a 450lb max occupant weight + gear capacity, a durable drop-stitch floor, and lumbar support — you get a durable and comfortable experience that won't punch you in the wallet.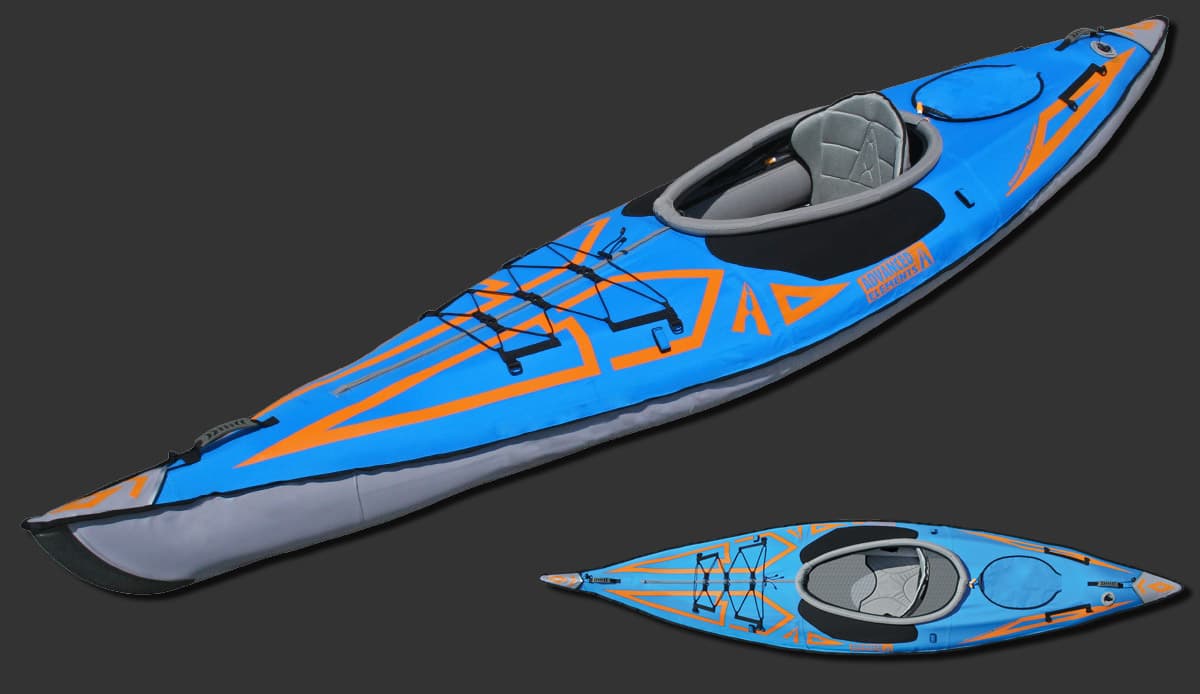 Who It's For
This kayak can fit the needs of a lot of kayakers. It is excellent for beginners and more advanced users alike. It can also fit a broader range of body types without leaving out those taller and/or bigger people. It can also handle a variety of 'yaking scenarios while still staying in one piece.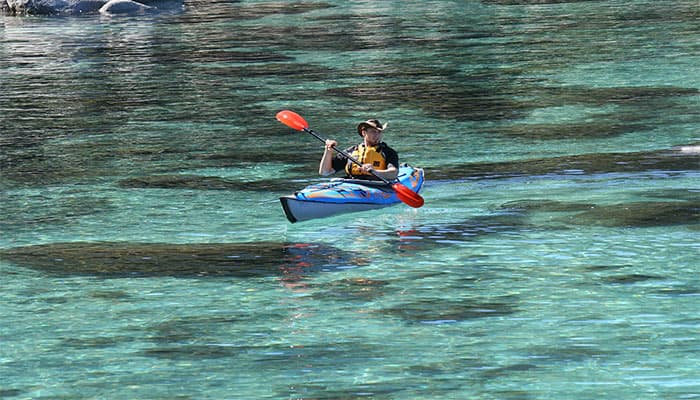 Recommended Use Cases
AdvancedFrame AE1009-XE Kayak can handle any lake, bay, or inland water experience barring extreme weather conditions. It is also designed for use in oceans and other open water trips. This kayak can also be used on up to a class II river rapid, making it possible to have a blast almost anywhere.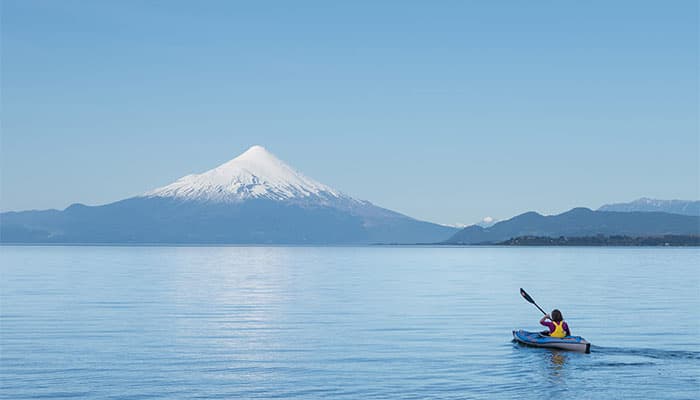 Kayak Features
Advanced Elements Spring Valve: The Advanced Elements Spring Valve is a specialty plunger valve that makes it easy to inflate the main chambers of this kayak. The best feature is that it is a selective one-way valve. Meaning the air won't escape if you detach the hose. Instead, there is a spring-loaded core that you press in and twist to deflate the kayak. It is an excellent feature.
Integrated Pressure Relief Valve In Floor:The AdvancedFrame AE1009-XE has a specialty valve built into the bottom of the kayak floor that prevents overinflation. This is important for the overall longevity of the kayak because if they become overinflated, their ability to hold air and shape may be compromised.
Inflatable coaming for attaching a spray skirt:The inflatable coaming is a great feature. It makes it possible to add a spray skirt for those times when it's essential to limit the amount of water that makes it into the kayak. A good example would be as you're kayaking on a river. It can also provide a soft edge to rest your arms on when you get fatigued.
Durable double coated RipStop fabric: The upper half of the AdvancedFrame AE1009-XE is covered by RipStop fabric. RipStop is a material that is tear-resistant and quite durable. One of the main benefits of having it is it prevents any rips, tears, or punctures from limiting your water adventures.
Bungee deck lacing: Bungee deck lacing or deck rigging is found on most, if not all, kayaks. Its purpose is to hold stuff. The AE1009-XE made an adjustment to their deck rigging. Along the center, three plastic side-release buckles allow you to separate the deck rigging. This is an impressive feature that will enable you to quickly secure more cargo for your journey (Frodo totally could have used this kayak).
Molded rubber handles: Molded rubber handles may not seem like a big deal, but they sure are worth 10 times their weight in gold. This is especially true when you have to carry any kayak more than a few feet on a windy day. They can really save your hands from injury and fatigue. Let's face it, it would be hard to kayak with busted up hands.
Reinforced bow and stern seam:Within the folds of the bow and stern of this vessel are two aluminum ribs that force the kayak to have its unique hardshell-esque exterior. The reinforced seams ensure that it keeps its shape and prevents tears in the nose or rear of the kayak. Those reinforced seams are also handy because the front and back of the boat are likely to take the most abuse when landing onshore or if the kayak is dropped during transport.

Hard edge bow/stern:The aforementioned ribs give the kayak a hard edge, which allows it to cut through the water like a hardshell kayak. This will make it speedier than those soft edge kayaks. It also helps greatly with its ability to track.
Storage compartment:The AdvancedFrame AE1009-XE has a unique storage compartment. The main lid is held down by velcro. Which, I know, doesn't sound too water-resistant. But, under that velcro lid is a roll-top dry bag which, when folded correctly, will keep your gear nice and dry.
Welded seams:Welded seams are more robust and durable than glued seams. The glue in glued seams will often react with other chemicals in the environment or might even degrade because of UV exposure. Welded seams, on the other hand, degrade at the same rate as the rest of the kayak because no secondary materials are holding them together.
Neoprene paddle guard: Neoprene paddle guards are a really nice feature to have. Whether your journey is long or short, they will keep your hands from getting torn up. Without neoprene paddle guards, a 'yaker would slowly but surely wear down the skin on his/her knuckles or fingers on the material of the kayak. With the AdvancedFrame AE1009-XE, you won't have to worry about that.
Adjustable back support: Back support is an often overlooked feature. Many companies have padded and adjustable seats. Which the AE1009-XE most definitely has. But on top of that, it has inflatable lumbar support. Which can be inflated by mouth on the fly.
D-ring tie down:D-ring tie-downs are the unsung heroes of anything water-related. This kayak has 8 D-rings to use for tying down gear or attaching anything you want to the kayak.
Skeg tracking fin: Another cool aspect of the AE1009-XE is it has a fixed skeg found at the stern of the kayak that makes tracking straight a lot more likely. It also has another mini fixed skeg located near the bow, which would, again, add to the tracking ability of this watercraft.
Drop-stitch floor:Another fantastic feature of this kayak is the included drop-stitch floor. Drop-stitching allows for more air to be pumped into the floor without it losing its shape or developing leaks. In comparison to the rest of the kayak, the floor can be inflated to 6 psi vs. the 1 psi that the rest of the kayak is limited to.
Kayak Specs:
Model
AE1009-XE
Color
Blue/Orange
Length
13 ft
Width
32 in
Weight
42 Lbs. (19 Kg)
Max. Weight 450 Lbs. (204 Kg)
400 lbs. Max occupant capacity
450 lbs. Max occupant + gear capacity
Chambers:
9
Our Review of the AE1009-XE
Tracking:The Advanced Elements AdvancedFrame AE1009-XE tracks really really well for an inflatable kayak. You point it in the direction you want to go, and it'll stay true with minor course adjustments. This is due to the fixed skegs, the hard edge bow and stern, and the added chine from the drop-stitch floor.
Stability: If you're looking for stability, then look no further. This will rival, if not outperform, most other inflatable kayaks (within the same recommended use cases). With its fantastic weight capacity and its footprint, this kayak will keep you above water even on windy and turbulent water.
Hull Speed:You can maintain a decent speed in this kayak relatively speaking. The hull on this kayak is long and slender, which gives it an advantage to the shorter wider kayaks out there. There is also minimal unnecessary drag because the material is pulled taut over the bladders and frame.
Durability/build quality:The AE1009-XE is exceptionally durable. It can handle dragging and bumping into rocks found on most shores with nary a scratch. It can go toe-to-toe with the amount of gear I bring for reviewing kayaks. It can also withstand the accidental abuse that its seen as I've hit underwater trees, rocks, and monsters. It took a beating and came out practically unscathed. I was pleasantly surprised.
Comfort: I've already mentioned comfort a few times in this article, and at the risk of sounding repetitive, I'll repeat it. It is a very comfortable kayak. As someone who's 6 feet and weigh's 270 pounds, I can fit and do so comfortably. Others who tested it with me were not as tall and didn't weigh nearly as much, and they found it comfortable too. They weren't swallowed up by kayak either.
Accessories
This particular kayak includes the amazing drop-stitch floor, a rudder mount, a high-back lumbar seat, a storage duffle bag, and a repair kit. You will need to purchase a paddle and a mount. Advanced Elements recommends their Double Action Hand Pump With Pressure Gauge . As for paddles, check out our Kayak Paddle Sizing Guide.
Add-ons
Advancedtrak™ Kayak Rudder Kit AE4005
This AE1009-XE a spot to attach a rudder system so you can steer hands-free. You use the included foot pedal system to control where you want to go. This can be handy if you wish to have a more fluid experience.
Adjustable Foot Pegs AE4003
There is a lot of foot room in this Advanced Elements model. So much so that some people might want some additional support. Another great add-on is the adjustable footpegs. This allows you to literally adjust your footing and find a comfortable spot with some decent leverage. The adjustable footpegs do add a layer to the inflation of the kayak, but it could be well worth it.
Recommendation/Final Verdict
I love this kayak. The AdvancedFrame AE1009-XE comes standard with some incredible features that aren't usually seen in other kayaks. The drop-stitch floor, rudder mount, and lumbar support seat are just a few of the many highlights. If I were you, I would buy this kayak in a heartbeat. It's durable, it's comfortable, and it can haul a ton of gear. Do your future self a favor and buy it.
The following two tabs change content below.
SupBoardGuide Editorial Team
At SupBoardGuide.com we are a team who love the water, the outdoors, and are more than grateful that our full-time job allows us to review stand up paddle boards. We paddle year round (it helps that we are just about 2 hours outside of Las Vegas), and we bring in a wide range of paddlers with the goal of providing our readers with the best, most in-depth, and accurate stand up paddle board reviews.
Latest posts by SupBoardGuide Editorial Team (see all)