ThursoSurf is one of the top brands in the mid-range SUP world. Why is that?
They make quality, affordable boards that perform well but also look great! They have their unique trademark look of the wooden deck and this year's models are particularly striking.
The 11′ Waterwalker, in particular, is a perfect All-Around board for those who need a bit more length/weight capacity then compared to its little sister the 10'6″. There isn't a huge difference between the two but I explain what they are and why you may want one or the other below!
Specs
| | |
| --- | --- |
| Length | 11′ |
| Width | 32" |
| Thickness | 6" |
| Weight Capacity | 330 lbs |
| Weight | 29 lbs |
Performance
The 11′ Waterwalker is fairly similar to its little sister the 10'6″. They both are relatively zippy boards and perfect beginner boards, especially those who want some versatility out of their SUP.

If you've ended up here because you are wondering about whether the 10'6″ or 11″ is for you, I'll do a quick summary for you. The 10'6″ is a more ideal "All-Around" board as part of the versatility of a good all-around is maneuverability and obviously, a smaller board is easier to move around. However, the 10'6″ may not suit bigger riders or those who want to regularly take heavy loads. That's where the 11′ comes in. A bit more length and the volume provide more stability for larger loads. The difference between the two isn't so large that if you ended up with an 11′ instead of the 10'6″ you'd struggle to paddle it. More so, the other way that someone better suited to the 11′ will have a more comfortable ride than if they were on the 10'6″.

Stability is huge the 11′ Waterwalker. Even though 32″ width is teetering towards a narrow shape, the extra length and volume make up for any loss in stability. The plus side is that the narrower deck allows for better glide. I found both sizes of the Waterwalkers to be zippy and I  put it down to board design. Compared to other all-arounds they are actually a little heavier so it's not their weight!

The 11′ Waterwalker is best suited to those wanting some extra room to play, whether it's to go fishing or a nice large deck for Yoga or taking the kids out. It tracks relatively well and makes for a nice cruising board on flat to moderate conditions. Loaded with features like all the D-rings and storage, it also would make for a good board to do day/overnight trips on. Though if you are wanting to cover long distances, something like their Expedition will get you further, quicker.
Materials

Thurso chooses to make their boards with a tough military grade PVC, wrapping the whole body in 3 layers of it and then an
additional fourth layer for just the rails. Seeing as the sides of the board tend to be the part that gets hit the most, it makes sense to make it the strongest part. This extra layer also provides a bit more rigidness for the board. Underneath all these layers is the
drop stitch core, the heart of every inflatable SUP. This core is what allows every board to be inflated to high PSI levels without going POP!
The deck pad is made from thick foam and I've always found Thursosurf deck pads to very comfortable. Their deck pads also offer up extra grip and glued on well. For traction, I do prefer deck pads that have rougher textures like crocodile patterns or diamond traction, but the Thurso pads suffice.
Board Design
ThursoSurf always has had a sort of trademark wooden grain graphic printed on their boards but the 2019 ones see a nice mix of colors in with the wooden look. The 11′ Waterwalker in 2019 had the streaks of burnt orange much like the 2019 but now there's some extra detail into the pairing.

The colors aren't the only change either. There is an extra 2 D-rings on the nose and 4 on the tail with more bungee for increased storage. Having more space on board to take gear/toys does make the board more appealing as an all-around. There's now also the 4 D-rings on the middle for a kayak seat if you so choose to purchase one! You can get the from Thurso with also the extra paddle blade to turn your SUP paddle into a kayaking one.
One of my most favorite additions is the paddle holder. On the side of your board, there are 2 velcro straps. This keeps your paddle completely out of the way but secured safely too. So perfect for activities like Yoga or even if you just want to have a seat and chill out without worrying about losing your paddle! Finally, the last extra features to point out at the 2 additional handles on the nose and tail, I feel on boards over 10'6″ extra handles are a necessity. It's not always easy to grab the board from its center handle, so these extra grab points are super useful.
Features
Inflate/Deflate

15 PSI is the recommended PSI level for Thurso boards and easily achieved with the double action high-pressure pump. There are other pumps on the market that get it done quicker and hope to see Thurso upgrade theirs in the near future to match. You also can choose to purchase one of their compressors, it gets the job done in about the same amount of time but much less effort. Using the supplied pump you'll be inflated in about 10 mins, maybe a little more depending on your pumping pace.
The great thing about their pump is the deflate option, attaching the hose to the other side of the pump labeled "out" will help you expel that last bit of air out. It makes rolling your SUP up much easier and quicker! Release the air by pushing down on the valve and twisting clockwise, this allows the air to continue to escape after you take your finger off.
Fin Setup
A tri-fin setup with click in fins is what you'll find on your Waterwalker. All 3 fins are removable, which makes rolling your board up a dream! The other benefit is you can choose to ride a single fin. A single fin is a bit trickier to execute a tight turn on but it tracks well.  The click in system is very secure and super quick!
Accessories
Paddle
Another upgrade for 2019 is the paddle. A carbon shaft paddle with nylon blade. Last year Thurso had some manufacturing issues with their paddles but it's great to see these issues have been resolved. Your paddle can be adjusted from 68″ to 84″, it floats and breaks down easily into 3 pieces for traveling.

The paddle is strong and the joins secure, there is a little flutter at times but its something I'd be surprised most would pick up on. For the price you pay, it's a fantastic piece of equipment and if you aren't satisfied you can easily upgrade to their full carbon paddle. It's super light, strong and looks very stylish with its matte finish.
Backpack
Keeping your board safe and portable is the Thurso backpack. The board sits snug inside with enough room left over for accessories and a few extras even. There's also an extra pocket up front for more gear and also a safe place to keep the fins. If you are choosing to carry the bag, you can find full support in adjustable straps as well as chest and waist straps. To avoid things sticking into you you'll find the back has a thick breathable mesh too.

While the biggest perk here is that you don't have to carry the bag! There are wheels! You'll be thankful if you ever decide to travel with your SUP. One thing I would like to see is perhaps the wheels put on the front next year or something to keep the backstraps at bay, it's quite easy to get them tangled up in the wheels. Grabbing the bag in and out from a car though is totally covered with handles on top, sides and on the bottom.
Leash
Coiled up and attached to your leg will be your leash! It attaches onto the D-ring at the tail of your board and fits comfortably around your ankle/calf. It's recommended to use it at all times but especially for those who aren't strong swimmers and in moving water.

Pump

This is the one thing on the list that I would say is the priority on improvement. If you are a regular SUP user then a good pump makes a huge difference. Though if you are going out weekly, I would still say invest in a compressor.
For everything else you get at this price, I would still be happy buying this board and just upgrading the pump at some point though. If you are only an occasional SUP user than this pump will be more than fine. It's high pressure and has dual action for less strenuous pumping. There's also the option to deflate which many new pumps don't have, it does make rolling the board easier getting the last bits of air out!!
Repair Kit
Ensuring you stay out on the water for maximum time you're supplied with a little DIY repair kit. For any abrasions you're scared may open up there are patches, you'll need to just buy some glue! Then also sometimes grit and sand can get caught in your inflation valve. Your valve tool in the kit allows to open the valve up and clean it out or inspect the fault yourself. Quite often we can fix it ourselves and you'll be back on the water much quicker if you do!
EXTRA GOODIES!
YAAAAY Thursosurf goodies! They always have the goods.
Electric Compressor 
I can't begin to stress enough how much time and effort these guys save. While they inflate at about the same rate as the hand pump, you can switch the pump on and use that time to get everything else ready. Also, the less effort required to get out on the water to more you'll want to go! They really are the best investment for iSUP owners. The Thurso pump lets you hook into power either via 12V cigarette port in your car or with alligator clips straight onto a battery.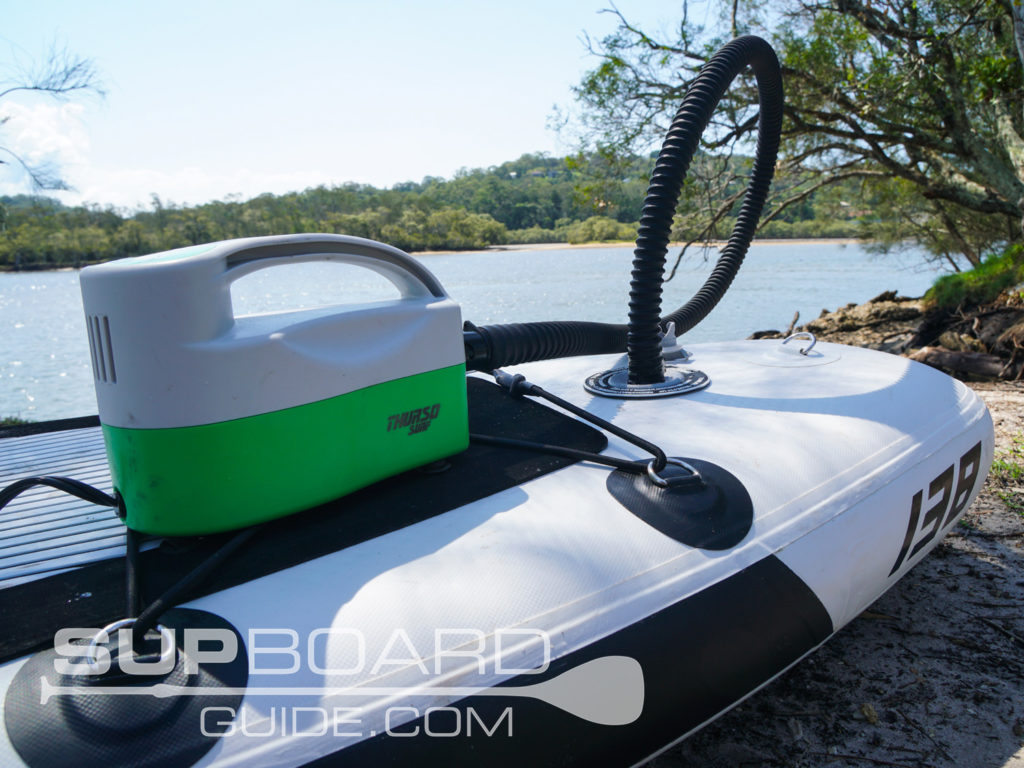 DeckBag
This years deck bag is way nicer! It's got better-sealed zippers, keeping everything inside a bit drier but also is well insulated. It also has a nice frame and just looks nicer. There are 4 clips underneath in which you can attach to the D-rings on your board. There's also a carry strap for the bag if you would prefer that.

Sunnies + Hat + Bag Strap
Thurso has now also brought out their own apparel, with sunnies, hats, and T-shirts available. My favorites are the sunnies!!!

Kayak Seat And Extra Blade
The kayak bundle is especially an awesome buy for the 11′ Waterwalker! With the extra space to take a heap of gear, why not go a long paddle or a fish even? You generally cover ground quicker by sitting down, so if you want to do a long trip where you can mix it up with standing and sitting, get this bundle! In the bundle, you receive a kayak seat and extra paddle blade. My only dislike is that the seat isn't too comfortable, the seat could do with better padding! Or maybe it's my toosh that needs the padding!

Conclusion
The 11′ Waterwalker is a really great buy both value wise and quality. It's slightly larger than the 10'6″ which makes it the perfect fit for someone who wants a versatile board but is a bigger rider. That or someone who regularly likes to take extra weight whether it be gear or kids/dogs! If you don't need the extra room the 10'6″ is the go! It's a fantastic, very fast all-around board and comes with everything you need to get started and some quality pieces like the carbon paddle!

If you are looking to something with a bit more speed their Expedition is zippy and closer to a touring board.
Thurso has a 2-year warranty on their products and easy to deal with. If you have any issues with your boards you can be sure they will always be helpful!
The following two tabs change content below.

Sacky
Heyo! I'm Sarah or as many call me, Sacky! I'm an Australian lover of the outdoors. From losing teeth to rock faces and surfing with dolphins - it's all my second home. I do the online thing to fund my obsessions and keep me seeing this wonderful world. Hope you've enjoyed my content 🙂