Renting a stand up paddleboard is the perfect way to test out the sport while on vacation or exploring your local waterways.
With the explosive growth of this pastime in the US, we now have plenty of SUP rental options to choose from.
In this post we explore some of the best shops in premier paddleboarding destinations across the US. We're just scratching the surface here, but this list should provide some good ideas for your next SUP vacation or adventure.
Our Favorite SUP Rental Shops by Region
What to look for: Our criteria for a top quality SUP rental experience
Geography / Terrain

When searching for a paddle board rental shop, you're looking to not only try out the sport, but also to check out and explore the area. Actually, this is really the best part. The SUP will give you access to untapped areas and provide a completely different perspective to explore from.
Find a shop that either offers a convenient launch spot to paddle from, or that delivers to unique paddling locations in the area. Many shops do both.
If you have a car and can strap the board to the roof, take this opportunity to learn about your surroundings and find some great paddling spots on your own.
Family Offerings
Since you're likely renting a paddle board while on vacation, you should be looking for a shop that provides options for the whole family. Whether you're traveling as a couple, or the entire family with kids, the shop should offer some options so everyone can join in.
In general, the rental shop should have the right board sizes for different body types, experience levels and abilities.
They should also offer stable all-around boards with decent construction. You don't want them to stick you with a narrow racing board, because that's what's left, and then send you on your way.
However, you also don't want a cheap plastic covered foam raft to stand up paddle on. That's why the best shops offer a range of well constructed boards from reputable brands for both beginners and experienced riders.
Pricing
Rental shops tend to increase their rates for busy times of the year. That said, you may find big differences among shop rates in the same destination.
Look for rental shops with pricing options by the hour, several hours, full days and multiple days. Many shops, especially in urban areas, also offer full season sup rentals. We feature a few in this guide.
Hourly rates should not exceed $20 – $30. If you're at a resort, this may be unavoidable. But when exploring a new area, look for shops that provide better value. Hopefully you'll find our list helpful for this reason alone.
Skilled Instructors & Guides with Product Knowledge
Find a shop with knowledgeable and passionate staff, and you're well on your way to a great day on the water.
If it's your first time, make sure they understand this and spend a little time explaining the basics of stance, paddling, safety, turning, upwind/downwind paddling, handling chop, etc.
Also, it's a lot more fun when you're guide knows the area and can take you on a scenic glide with some commentary along the way. If you're with a family, and going on a guided tour, you will most likely have a representative from the shop leading the paddling excursion. These instructors will usually also provide some basic pointers on how to SUP.
Several of the instructors these days are certified by a SUP training company (i.e. PaddleFit) and trained in CPR and First Aid. This is always a good sign of a high quality rental business.
Passion
Finally, with the dramatic rise in popularity of recreational SUPing, many water sport retailers have simply added SUP to their offerings in order to increase business and cater to tourists. We can't blame them for this, but try to find a shop with a passion for stand up paddleboarding and a focus on the gear.
And now on to some of our favorite rental shops and SUP tour operators in the US by region . . .  If your favorite SUP rental shop is not on our list, please feel free to share with us in the comments below. We would love to learn about some new places to check out!
photo credit: Invitation via photopin (license)

First Stop: New England
Best New England Paddle Board Rental Shops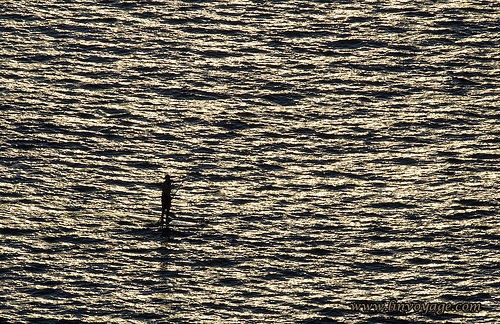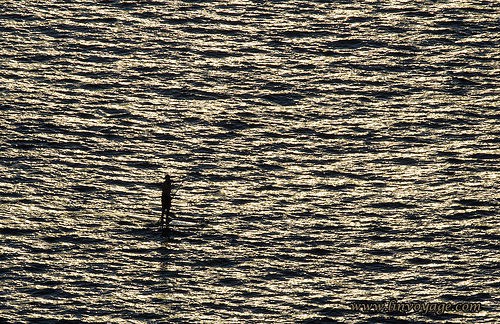 Below are some of our picks for paddle board rentals in the New England region. Starting way up north in Maine (vacationland), and swinging through little Rhode Island, there's no shortage of great inland and coastal stand up paddling destinations in this region.
Acadia SUP
55 West Street, Bar Harbor, ME
If you you're lucky enough to find yourself in the beautiful Bar Harbor and Acadia National Park area, check these guys out for SUP rentals, lessons, tours and more.
Renting a SUP from a qualified retailer and guide in this area guarantees access to some of the most dramatic coastal scenery in New England. Hourly ocean rentals start at $20/hr – with half-day, full-day, multi-day and weekly rental options as well. Reservations are recommended.
Portland Paddle
Located at East End Beach on the Casco Bay waterfront in Portland, Maine, this shop is run by some local outdoor enthusiasts with serious knowledge of the beautiful Casco Bay area. If you're in Portland, there's plenty to do already, but sometimes exploring the waterfront can seem out of reach without a boat.
Renting a stand up from these guys is a great way to explore the city from a different perspective. Portland Paddle is open from May to October. Rental rates for SUPs start at $20/hr, and $55 for a full day. Lessons and guided trips are available as well.
Provincetown Aquasports
333 Commercial St, Provincetown, MA 02657
Sitting at the far reaches of Cape Cod in Provincetown, this rental shop offers tons of equipment and activities for getting out on the water. In addition to SUP and kayak rentals, Provincetown Aquasports offers SUP fitness classes, instructor led paddleboard yoga, and guided SUP tours of the waterfront.
Rentals are $20/hr and $50 for a full day.
Winds Up
199 Beach Rd, Vineyard Haven, MA 02568
This shop has been in the Martha's Vineyard watersports business since 1962. Locatad in Vineyard Haven, Wind's Up offers SUP rentals, sales, and lessons. Paddle board rentals are $20/hr and $55 for a day, with multi-hour and multi-day options as well.
They will also deliver the SUP to your location on the island for rentals of 3 days or more.
Paddleboard RI
Run by certified Paddle Fit trainers and SUP enthusiasts, Paddleboard RI provides guided tours, lessons and fitness classes throughout Rhode Island.
If you truly want to explore some of RI's best coastal features, this a great option. Instead of SUP rentals, Paddleboard RI offers specific tours of certain areas, which we think works really well for the ocean state.
Tours are $100 per person for 1 hour and $75 per person for 2 hours. Locations include Ninigret Pond in Charlestown, The Narrow River, the Providence waterfront, sunset tours in South County and more.
Best Mid-Atlantic SUP Rental Shops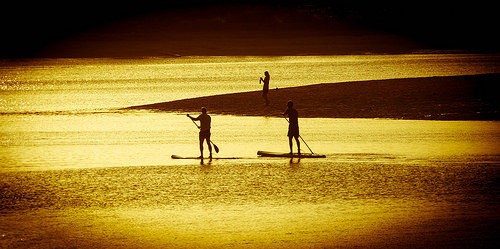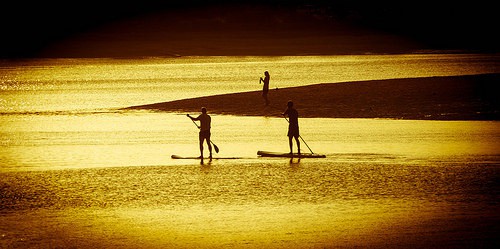 Thanks to an unparalleled coastline for adventure, beautiful lakes and inland waterways, and plenty of urban paddling options in places like Baltimore, DC and Annapolis, the Mid-Atlantic region is chock full of great places to rent a paddleboard. Here are a few of our favorites:
Jersey Paddleboards
622 Jersey Ave, Greenwood Lake NY
Located in the Greenwood Lake area, Jersey Paddleboards is a family owned, full service SUP shop. They offer boards for sale and rental, as well as lessons, yoga classes, and race participation. The staff is CPR and first aid certified.
Rentals are $25/hr and $55 for a full day. You can launch directly from the beach at their rental shop. From here you can access over 9 miles of nice flat-water paddleboarding with plenty of restaurants and activities along the way.
South End Surf and Paddle
220 S. Bay Avenue, Beach Haven, NJ 08008
These guys offer a nice range of paddle board rental options for trying out SUP and exploring the Long Beach Island ("LBI") area of New Jersey.
Rentals are available at the shop and by delivery. Rates are very reasonable: $25 for 2 hours and full days for $85. They also offer SUP lessons and eco-tours of LBI. A nice option is their Tune Up lesson. This course is designed for intermediate to advanced riders looking to improve their SUP technique.
East of Maui
East of Maui is a full service board shop serving the Annapolis, Washington, and Baltimore areas since 1979. They offer SUP rentals for $50 a day, and $79 a day for performance boards. This shop is a favorite among locals.
Rentals are available out of their Annapolis location. There's a lot to explore around here, so if you're in the Annapolis area and itching for some water time, definitely check this spot out. Multi-day SUP rentals are available as well.
Tula Adventure Sports
2100 Marina Shores Dr., Virginia Beach, VA
Tula, which means "balance" in Sanskrit, is a unique board shop offering a wide variety of watersports options in Virginia Beach. This includes a bunch of SUP gear and instructional services.
They also provide tours – including a Virginia Beach downwinder – and board demos on site. Other activities include sunset paddles, dolphin excursions, private SUP lessons, and yoga classes.
For board rentals, rates are $25/hr for all arounders ($40 for 2 hrs), and $35/hr ($50 for 2 hrs) for high performance SUPs. This shop is truly devoted to getting people excited about SUP and providing one of kind paddleboarding experiences.
Best SUP Rentals in the South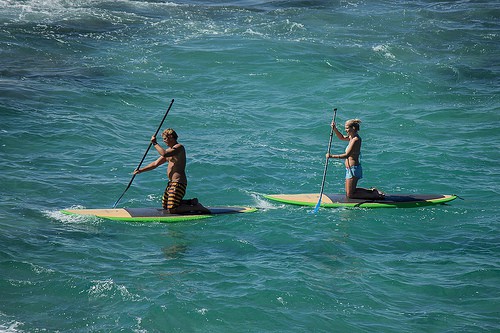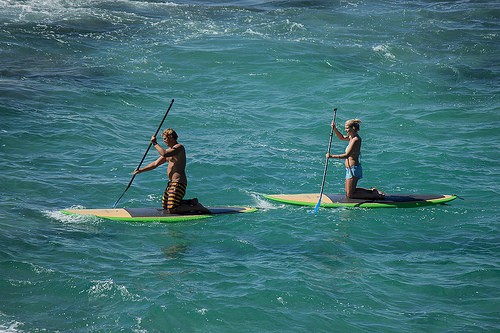 It is hard to narrow down recommended paddleboard rental shops in the South – there are too many options. But in keeping with our criteria, and spreading out to beautiful destinations in South Carolina, Tennessee, Texas, and Florida, it was actually easy to suggest a few excellent SUP rental options and tour operators.
Charleston SUP Safaris
83 Center Street, Folly Beach, SC 29439
These guys are devoted to both the sport of SUP and the protection and appreciation of their local Folly Beach marine environment. They offer multiple tours a day and lessons to accommodate paddlers of all abilities, including beginners and younger family members.
Rentals are available for several lengths of time. A 2 hour rental is $35, and full day rentals are only $50. These guys offer a full range of SUP services, including eco safari tours, river and surf lessons, rentals, sup yoga and fitness, paddleboard sales, summer camps, races, and international trips.
Nashville Paddle Co
2901 Bell Rd., Nashville, TN 37217
The Nashville Paddle Co. is a full service SUP shop serving the music city area. They focus on providing fun and adventurous stand up paddling experiences in middle Tennessee flat-water environments.
Their offerings include short-term and long-term rentals, recreational how-to classes, intermediate technique instruction, endurance race training, PaddleFit workout sessions, moonlight paddles, dragon boat race training on SUP, team building events, bachelorette parties, fun group outings and FloYo® (SUP yoga).
Paddle board rental rates at Nashville Paddle Co. are as follows:
Two-hours: $40
Half-day: $60
Full-day: $85
Weekend: $170
Week: $350
All by advanced reservation. Learn more
Austin Paddle Sports
2200 South Lakeshore Blvd, Austin, TX 78741
Austin Texas is known for a thriving outdoor sports scene and for being the hub of central Texas SUP culture.
If you want to be part of this growing community, Austin Paddle Sports is the place to start. They offer lessons, paddle board rentals, and tours for Central Texas.
Rental rates are only $15/hr! Whether you live in this area, or happen to be vacationing in Austin and want to try out SUP or seek adventure on local Central Texas waterways, definitely pay these guys a visit.
Sweetwater Paddlesports
4575 Bonita Beach Rd, Bonita Springs, FL 34134
There are so many paddleboard focused shops in Florida, and it makes it pretty hard to choose our favorite places to rent a SUP. However, Sweetwater Paddlesports fits the bill perfectly. First, they cover a lot of ground for serving the Southwest Florida area, including Naples, Bonita Springs, and Ft Myers Beach.
This is a fantastic area to explore with a SUP. They also carry a line of top quality SUPs, including Lakeshore, Tahoe, Fanatic, One World, Watersedge SUP, Odyssey, and Boga Paddleboards. They also offer rental SUPs by delivery and SUP lessons. Rental rates start at $50 for two hours of paddleboarding.
Aquaholic Adventures
Islamorada and Key Largo
This is shop is run by a PaddleFit Level 3 certified instructor, so you know you're in good hands. Located in the beautiful Islamorada and Key Largo area, Aquaholic provides rentals, lessons (including PaddleFit, race training, and basic skills), yoga, eco-tours and more.
This coastline is really hard to beat, and one of the absolute best ways to explore it is on a SUP. They offer a special "Launch Pass" for $100, which includes 10 paddle board rentals. This is a great way to build your SUP skill set and fully immerse yourself in the sport while in the Keys.
SUP rental delivery is available at several locations in Islamorada and Key Largo.
photo credit: Paddleboarders via photopin (license)
Best Midwestern Paddle Board Rental Shops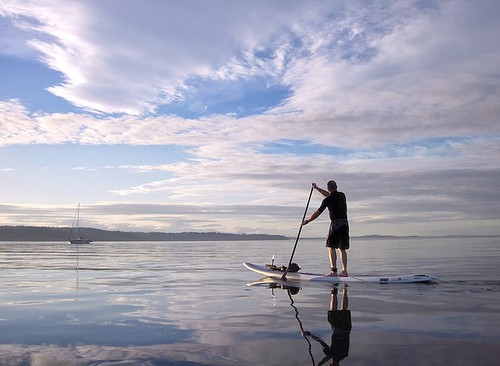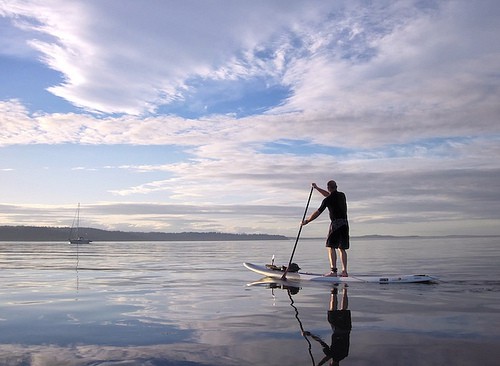 The Midwest SUP scene offers a unique combination of full service urban paddle purveyors and wide open lake country SUP excursions… plus river ways, channels, beautiful harbors and more. Check out a few of our favorites.
Chicago SUP
1603 N Lake Shore Dr Chicago, IL 60611 – on the bike path – North Ave. Beach
Yes, you can truly can check out the Chicago shoreline and cruise Lake Michigan on a SUP. Urban paddle board rentals are taking off, and this shop provides a one-of-a-kind experience to see the Chicago skyline from your board. Rentals start at $30/hr. They also offer a 10 hour SUP pass for $200.
If you live in Chicago and want to take full advantage of their rental fleet, also check out the season pass for $500. This gives you unlimited board access, discounted fitness, gear upgrades and more. Since lugging a SUP around a city like Chicago could be a little challenging – to say the least – we think the season pass is a nice option for city dwellers.
Other offerings include city and Lake Michigan expeditions, SUP yoga, group lessons, and gear storage.
Clearwater Outdoor
Lake Geneva, Delafield, and Milwaukee, Wisconsin
This is a full service outdoor store serving the active outdoors community of Milwaukee, Lake Geneva and the surrounding lake country. Their SUP offerings include rentals, lessons, and guide tours of areas such as Big Foot Beach State Park.
SUP rental rates start at $40 for 2 hours and $200 for a full week. There are tons of extra gear and unique adventure options available as well.
Lake Erie Paddler
485 California Ave, Lorain, OH 44052
Lake Erie Paddler, located in Lorain, Ohio west of Cleveland in Northeast Ohio, offers SUP lessons, rentals, fitness classes, and paddleboarding excursions. Rental rates as of 2014 (check with them for 2015 rates) start at $20/hr and $50 for four hours.
They also offer delivery and longer term SUP rentals for vacationers at locations like Kelley's Island, Put-in-Bay, Marblehead, Catawba, Port Clinton, Sandusky, Vermilion, and Geneva-on-the-Lake. This shop also provides SUP yoga and fitness classes.
We love SUPing on the flatwaters of beautiful lakes, so Lake Erie Paddler is a perfect fit when traveling in Northeast Ohio lake country.
Paddle On ND
500 6th Ave NW Mandan, ND 58554
Paddle On ND serves the Bismarck / Mandan area with SUP rentals and sales. Wait, paddleboarding in North Dakota? Yes, and it's actually a perfect location and base for exploring the many nooks, crannies and open river passages of the Missouri River. Paddle On ND offers SUP rentals at the following rates:
1/2 day (less than 5 hours) – $30.00
Full day – $50.00
2 days – $90.00
3 days – $120.00
Week – $150.00
That's right, $30 for a half day! Definitely check this place out if you're in the area and looking to get out on the river.
Wet Mittens Surf Shop
Grand Haven and Traverse City Michigan
This is a full-scale surf shop with a growing expertise in renting and selling stand up paddleboards for outdoor enthusiasts and recreational paddlers in Western Michigan.
They offer a lot of options for renting SUPs on Lake Michigan, including a 4 Hour Paddleboard Rental for $40 and 24 Hours for $55. They will also deduct the cost of a rental from the full SUP price if you choose to buy a board. If you'd rather rent, but still want a season's worth of paddleboarding at your fingertips, check out their Summer pass for $750.
Our Favorite Mountain West SUP Rental Shops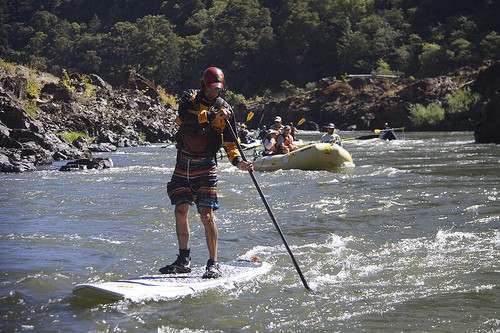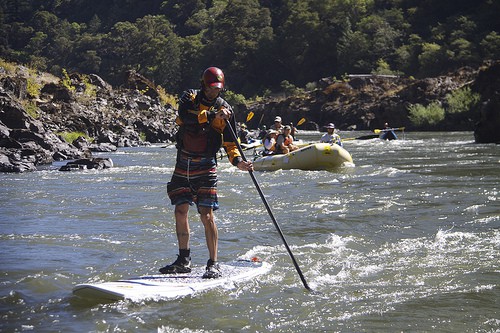 Lazy rivers, rapids, and lakes with mountain scenery in the background. Doesn't sound too bad. SUP is a rapidly growing sport in the adventure communities and mountain towns of the Mountain West. Here we explore a few our favorite SUP rental shops and destinations.
Rocky Mountain Paddleboards
Boulder and Longmont, Colorado
Operating out of the Boulder and Union Reservoir regions, Rocky Mountain Paddleboards offers SUP rentals and Beginner Instruction as well as SUP Yoga and Fitness classes. Sup rental rates start at $20/hr with unlimited monthly rental passes available for $175.
You can arrange for all SUP rentals, yoga classes, group lessons, and SUP boot camps online. This shop is a great addition to a community already laser focused on outdoor adventure and fitness. SUP fits in perfectly, and if you're traveling through (or lucky enough to live in) the Boulder region, check these guys out and explore the reservoirs.
Paddle Fish Sports
105 Wisconsin Ave, Whitefish, MT
Located in Whitefish, Montana, a haven for outdoor sports enthusiasts in NW Montana, Paddle Fish Sports offers a really nice line-up of SUP rentals for exploring local rivers and lakes. This is the only SUP specific shop in the area too. They also provide certified SUP instructors, yoga and fitness classes, races and group paddles.
Rental rates are $20 for two hours, $40 for a half-day and $60 full day. The unique part of this shop is the range of rental board offerings. They offer boards by Surftech, Badfish, Riviera (one of our favorites), MORRELLI & MELVIN (Carbon SUPs), Rogue, and Ron House.
4 Corners River Sports
360 S. Camino del Rio, Durango CO 81301
Explore the Animas River in Durango, CO with a full range of SUP rentals and services. They have a nice selection of SUP boards to choose from, including Badfish, Glide, Hobie, Hala, NRS, Jackson, Starboard and more.
If you want to take your SUP skills to the Durango rapids, definitely start with these guys. They provide expert instruction in whitewater rafting and kayaking, so adding SUP to their line up just makes perfect sense.
Whitewater SUPing is an up-and-coming adventure sport, especially in this area of the South Western US. Try out a rental here to see if you're up for it. They also offer multi-day expeditions along rivers in Colorado, Arizona, Utah and New Mexico.
No Snow SUP
3654 N Power Rd Suite #104 Mesa, Arizona 85215
Thanks to No Snow SUP, stand up paddleboarding has made its way to the Phoenix Metro Valley. This shop offers rentals, sales and expert led clinics in North Shore Tempe Town Lake. They carry a nice selection of paddle boards, including Riviera SUPs. Rental rates here are really reasonable too: you can rent a SUP for a full day for only $40. Express rentals are available for River Basin at $30 for two hours.
Teton Village Sports
A mecca for outdoor sports and mountain activities, Teton Village (home to one of our favorite ski mountains, Jackson Hole) offers beginner and advanced SUP rentals for warmer weather adventures.
Summertime is relaxing in this area, and in addition to the endless hiking, biking and climbing available, taking a paddle along one of the many Jackson rivers is the perfect way to explore the area. Stop by for a visit and find out how to plan a day exploring the area. Then find a suitable board and go explore.
Call for 2015 rental rates: 307-733-2181.
Learn More
photo credit: Stand Up Paddle Board Rogue River via photopin (license)
Best Places to Rent a SUP in the Pacific US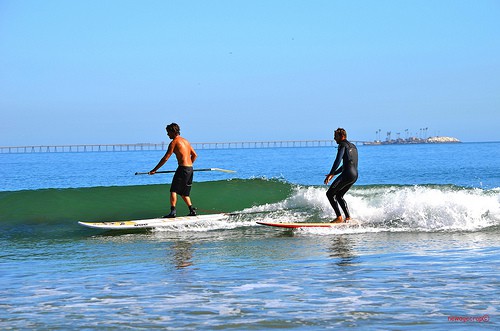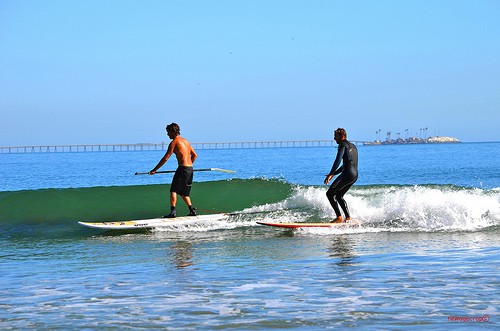 The Pacific region boasts some of the best SUP destinations in the world, including the birthplace of stand up paddleboarding in the US . . . Hawaii. Starting way up in the Pacific Northwest, down through California, and over to the Hawaiian Islands, here we feature some of the best SUP rentals and tour operators in the Pacific region.
Windance Board Shop
108, Hwy 35, Hood River, OR 97031
Located in one of the most active watersports towns in the world, and one of the windiest, Windance Board Shop in the Columbia River Gorge offers a full selection of SUP boards for rent, including Mistral, Slingshot, Jimmy Lewis & RED.
Board rentals are $40 per day – a nice way to grab a SUP and explore the waters around Hood River. These guys have been in the business since 1984. It's a high quality board shop and a great place to rent a SUP from.
Benicia Kite and Paddle Sports
238 1st Street, Benicia, CA 94510
If you're in the San Francisco Bay area and looking to try out a SUP board, check out Benicia Kite and Paddle Sports. In business since 2012, they offer Sups for sale and rent, as well as group SUP lessons, team building sessions and SUP yoga.
SUP rental rates start at $20/hr with full day paddle board rentals available for $100. They also offer multi-day rental discounts and provide delivery service around the area at an additional charge.
Pirate Coast Paddle Co
1131 Back Bay Dr. Newport Beach, CA 92660
Located in Newport Beach, California, Pirate Coast Paddle Co. offers SUP rentals, lessons, events, kids camps and excursions. This shop is run by a team of experienced athletes and SUP enthusiasts dedicated to bringing the benefits of paddleboarding to riders of all ages and abilities.
SUP rentals are available at $20/hr. First time paddlers are required to take an initial safety primer for an additional $5. In addition to a fleet of over 40 rental boards, Pirate Coast Paddle Co. also offers a range of SUP classes and guided tours around the area.
Kona Boys
Kailua-Kona and Kealakekua, Big Island, Hawaii
Check out the Kona Coast with a truly laid back Hawaiian surf, dive, kayak and SUP shop at Kona Boys. They offer SUP rentals for paddlers who want to explore the beautiful, serene waters of Kealakekua Bay and Kahalu'u Bay.
Rental rates are $25 for an hour, $74 for 24 hours, and $249 for the whole week. These are reasonable rates compared to what many resorts in the area charge. Plus, you're renting through a full service surf shop. Kona Boys also offer SUP lessons and group and private tours of the Kona Coast.
Makena Paddle Tours
Okay, so our last paddle board rental spot is not actually a place to rent boards. Instead, this is for SUPers looking for truly unique guided tours of South Maui. The feedback on the Makena experience is incredible.
For many travelers, a Makena tour is the highlight of their entire trip, which is saying a lot for a vacation in Maui. If you truly want to see the South Maui coastline from the best vantage points, and get some amazing technical SUP experience and physical activity while you're at it, look into the trips available from Makena. They book SUP trips for private, semi-private and group tours.
photo credit: Sunday Surfing via photopin (license)
The following two tabs change content below.
Justin Taylor, Head Paddler
At SupBoardGuide.com we are a team who love the water, the outdoors, and are more than grateful that our full-time job allows us to review stand up paddle boards. We paddle year round (it helps that we are just about 2 hours outside of Las Vegas), and we bring in a wide range of paddlers with the goal of providing our readers with the best, most in-depth, and accurate stand up paddle board reviews.
Latest posts by Justin Taylor, Head Paddler (see all)