Red Paddle Co Ride 10'6 MSL
Versatility
9.0 /10
Construction
10.0 /10
Stability
9.5 /10
Appearance
8.5 /10
Performance
8.5 /10
Pros
One of my favorite all-rounder inflatables of 2016
Super stable base
Can be used by the entire family
Great for anything from flat water to small waves
Cons
The thruster fin setup is causing it to not track as straight as other boards
(Updated: 1/2/2018)
Once upon a time, I looked at inflatable SUPs as the poor cousin of the hardboard. I just didn't get why anyone would go for the air-filled option when you could buy the real deal. That has changed, and the Ride 10'6 by Red Paddle Co is one of the reasons.
Enter The Red Paddle Co 10'6 2016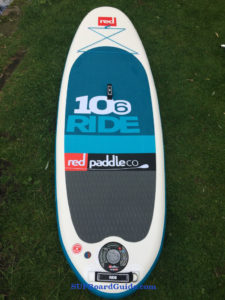 If ever there was a game changer, then the 10'6 Ride is probably it. The inflatable board has got so many things going for it and very few things to complain about. It also comes in a package with everything you need including the board, bag, Titan pump, paddle and leash and is reasonably priced. It's one of the three best iSUPs I tested in 2016, and Red Paddle Co even calls it "the world's most popular inflatable SUP". Sounds good? Let's see if it deserves that title.
(Update: I reached out to Red Paddle Co, and the US package is slightly different from the EU one. It includes a phone case and repair kit instead of a paddle. They are planning to change that in 2017 though)
The Real Review
You will find reviews that try and remain objective about the board. In my reviews, I tell what I feel: If a board is good then I say it is good. If not, I say it is not. Here is how I tested the Red Paddle Co 10'6 Ride and what I thought about it.
Inflating/Deflating:

A major pet peeve I've had with inflatable boards is getting them inflated. The 10'6 Ride makes this a breeze with their Titan Pump. Like the board, the pump too is a step above the rest. There are two chambers melded into one: a high volume / low-pressure chamber, and a low volume / high-pressure chamber. The result – I could inflate the board in under 5 minutes. I first used both chambers to inflate the board to about 10 PSI. Once it got too hard to pump I just removed the red stopper and kept pumping until it reached 18 PSI. The pump also comes with an accurate pressure gauge to easily monitor the PSI.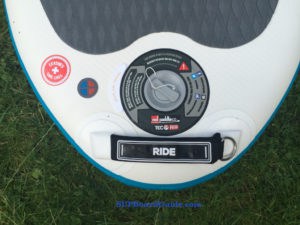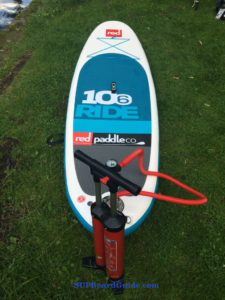 If inflating the board is easy, deflating the SUP is easy too. All you have to do is push in a little pin and twist it slightly, about 1/4th. You can then roll the board back up and store it away in the backpack.
The Backpack
Transportation is another aspect that Red Paddle Co has addressed with an ideal solution. The backpack provided makes carrying the deflated board to and from the water an easy task. The shoulder straps provided are soft and well cushioned. There are wheels attached to the base of the backpack. In case you feel a bit lazy, you can wheel the bag around. Very cool. Getting the board in and out of the bag can be a hassle. Many inflatables never seem to fit back into the bag after inflating them for the first time. This is not the case with the Red Paddle Ride. It actually fits easily, including the pump and paddle.

Materials and Quality: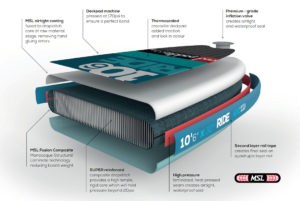 When it comes to make quality, I don't think there are many out there to rival this board. It has been crafted using a high-density drop-stitch material that results in a super strong core. This core is then protected by another outer layer. So, what you get is a tough core protected by a tough outer shell: Kinda like two boards in one. The benefit of the superior construction is that the board can be pumped real hard…harder than most other inflatables. Consider this: the 25 PSI limit is more than what other boards can take: iRocker Paddle Board (15 PSI) or the Pathfinder Inflatable (15 PSI), for instance. The result? It really doesn't feel like an inflatable on the water and it weighs under 20lbs. That's almost 30% lighter than the 2015 model and also significantly lighter than the previously mentioned iRocker at 30lbs and the Pathfinder at 32lbs. You will feel the difference.
Design: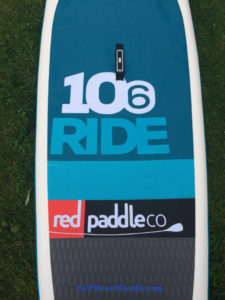 I definitely like the design and fresh look of the board. All Red Paddle Co boards have a very clean and stylish look. The 10'6 Ride is no exception. The white, red and blue looks awesome, and there is a lot of cool details. It also has cargo tie-downs making it easy to attach a deck bag or transport some gear.
Fins:
The Ride 10'6 has a thruster fin setup, meaning that there are three fins instead of one.  While they are fantastic in some aspects, they are also the only real drawback the board has. Because there are three fins, each of them is only about 3 inches long. That makes them much shorter than the average fin which is great if you SUP in shallow water. You won't get stuck or hit obstacles below water. Another huge plus is that the setup allows you to surf small waves making the board a true all-rounder. I took the board out to the Baltic Sea, and yes, you can definitely surf it but more on that later. So what's the disadvantage of the thruster setup? Tracking. You won't track as straight as you do with other boards. If you're a beginner, you will probably have to switch sides more often than you would normally with other boards. I guess that's the price you have to pay when you have a board that's as versatile as this one though.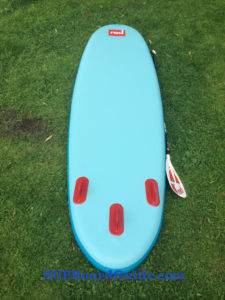 Performance:
As many of you probably know, I live in Hamburg, Germany. That means I spent most of my time on rivers, canals, and lakes. However, I did take the Ride out to the Baltic Sea as well to see how it does in rougher conditions. It really surprised me in the most positive way possible. Since the board can hold a lot more PSI than most other inflatables it really feels almost like a hardboard on the water. It's a little bit more bouncy of course, and you do have the issue of tracking straight, but overall this is definitely a fantastic board and my favorite inflatable paddle board by far. Nothing is perfect though, and the tracking issue is a small price to pay for the versatility and all-rounder capabilities you get in return.

The first couple of days I used it on rivers, canals, and lakes. The Ride is 10'6 long, 32″ wide and 4.7″ thick giving it a sturdy and stable base. That makes it ideal for paddle boarders of all skill levels, from beginner to more experienced and the volume of 240l allows for a rider weight of up to 220lbs. The glide on flat water is phenomenal. Much better than I expected! After a couple of days on flat water, it was definitely time to take it out to the sea, and that's just what I did. The Ride did great, even in rougher conditions! It was pretty windy that day, but I had no issues at all. This is when I really appreciated the fin setup as well. You can definitely surf small to medium waves with it even though the rounded rails are not perfect for it. It turns well though and is a lot of fun to surf. Definitely a huge plus to have a board that you can take out on flat water but surf waves at the same time. This is also what makes it a great beginner board. You won't get bored with it.
Who should buy it?
Let's wrap it up. The Red Paddle Co 10'6 Ride 2016 is a fantastic board and is my favorite inflatable as of now. I can honestly recommend it to anyone looking for a board that will be fun for touring, flat water paddling or even surfing small waves. If you're a beginner or advanced paddler and you need something inflatable that won't break the bank go for it. The quality and materials used are top notch. It looks great and can be used by the entire family. Yes, it doesn't track as straight as other boards, but that's a small price to pay for having an all-rounder in my idea.
If you're interested, you can currently get the 2016 model heavily discounted at Pumped Up SUP.
Update: The included aluminum paddle (EU customers only) isn't great at all. I've had the SUP since early 2016 but barely used the paddle since I've got a bunch of carbon paddles at home. It's not only fairly heavy but also pretty bad quality. The blade is coming off and twisting. The US package doesn't include a paddle anyway, but I still wanted to mention it. The board, on the other hand, is great and I still highly recommend it.  
Update 2: You currently get a free Earth River SUP Fiberglass Paddle Worth $129 with every purchase. Problem solved!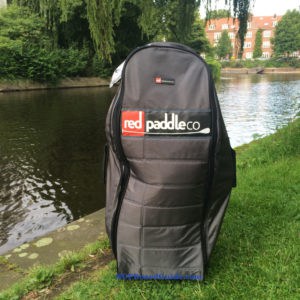 Board Specs
| | |
| --- | --- |
| Length | 10'6″ |
| Width | 32″ |
| Thickness | 4.7″ |
| Fins | Thruster Fin Setup |
| Weight | 26 lbs |
| Capacity | 220 lbs |