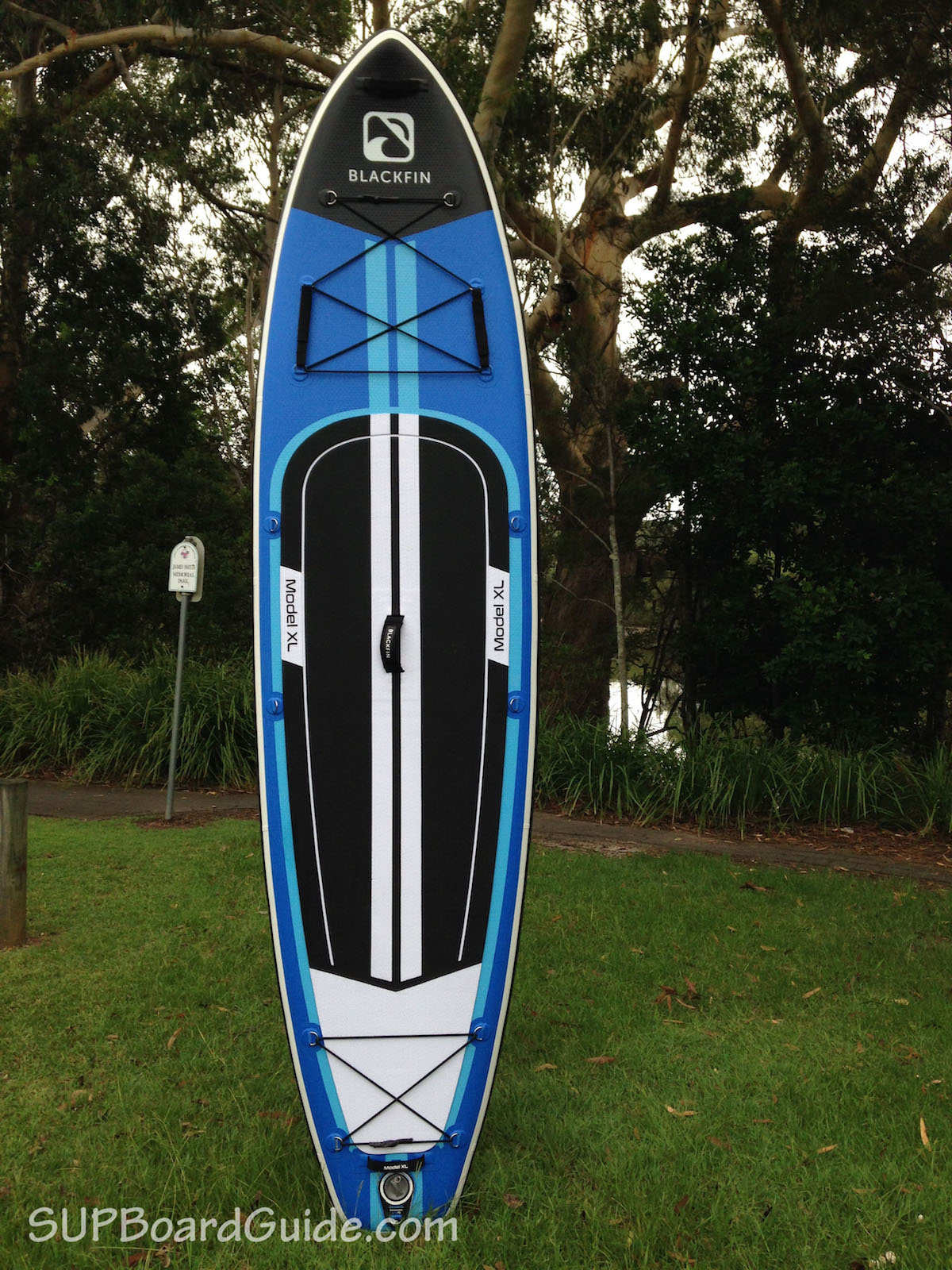 by Sarah Sackville
Note: You can save $80 by buying two boards. 
Want the FULL package?
Quality, affordability, reliability, durability?
Voila! Your wish is the Blackfin's command.
You can use the Blackfin Model XL as a fantastic cruiser or perfect family board. The materials are strong and reinforced with rarely seen carbon rails. The accessories are more that of a high-range ($) board and the design would even make James Bond feel like he needs to up his suave.
The company iRocker has been making waves with their SUPs since they started and this is no exception. The iRocker range is awesome and the new 2018 boards are definitely some of the best mid-range boards you can buy. However, the Blackfin Model X and Model XL are more high-end boards and can easily compete with the likes of Red Paddle Co and other top notch brands. Read on further for all the pros (and the reality is a couple of cons) of this SUP.
Specs
| | |
| --- | --- |
| Length | 11'6" |
| Width | 34" |
| Thickness | 6" |
| Weight Capacity | 485 lbs |
| Weight | 32 lbs |
Video Review
Performance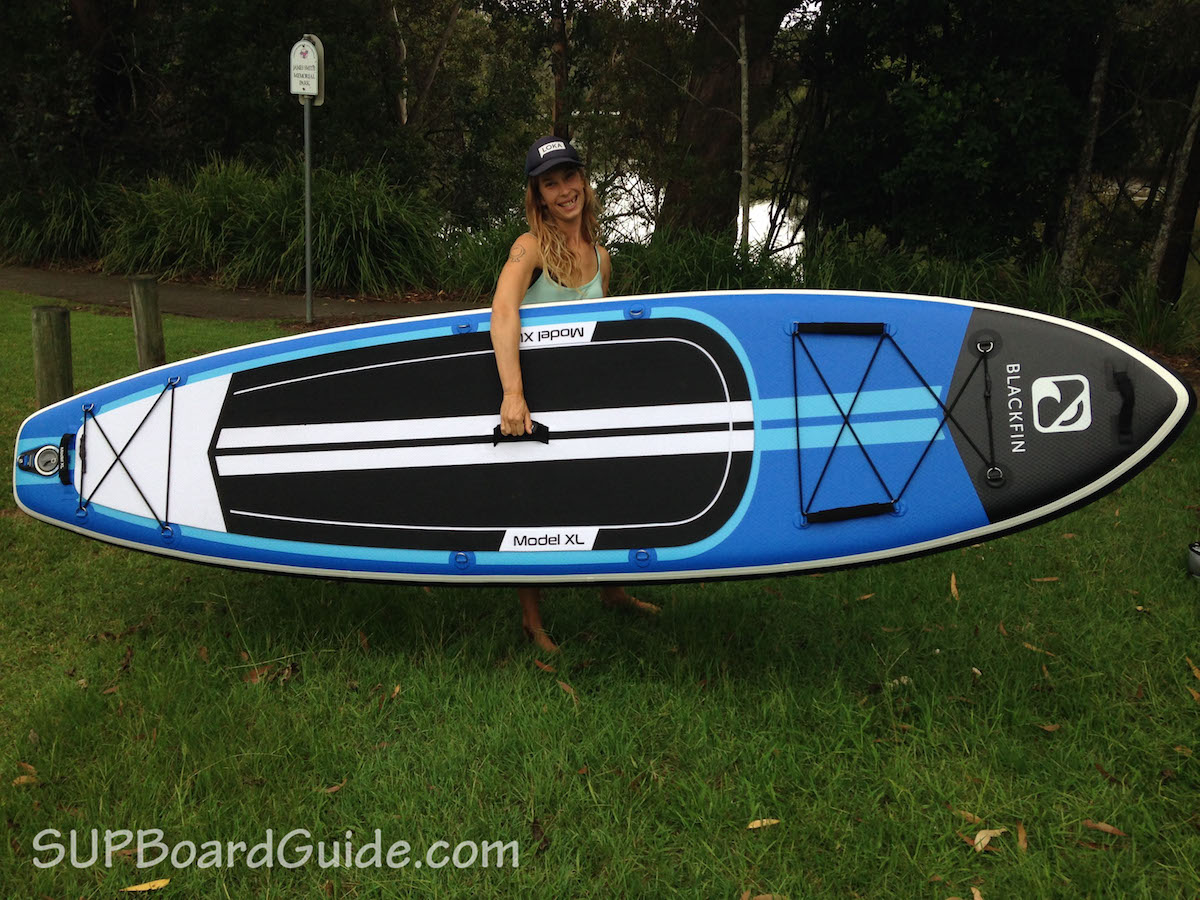 I think I could paddle this one with my eyes closed.
I thought the Model X was a stable board. Then I jumped on the XL after and couldn't believe I was on a SUP. It felt more like a boat.
The stable platform did make me wonder about performance though. I was pleasantly surprised by the turning capabilities. It's got a slim design through the tail that helps boost its performance when turning in a tight circle too. I found it as easy to turn as the Cruiser or the All Arounds. This may also be due to the fins.
It's a little slow on the water compared to something like their All Around. Though not so slow that it takes all your effort to gain any speed. I was able to pick up speed in a few strong strokes and it held it's line beautifully.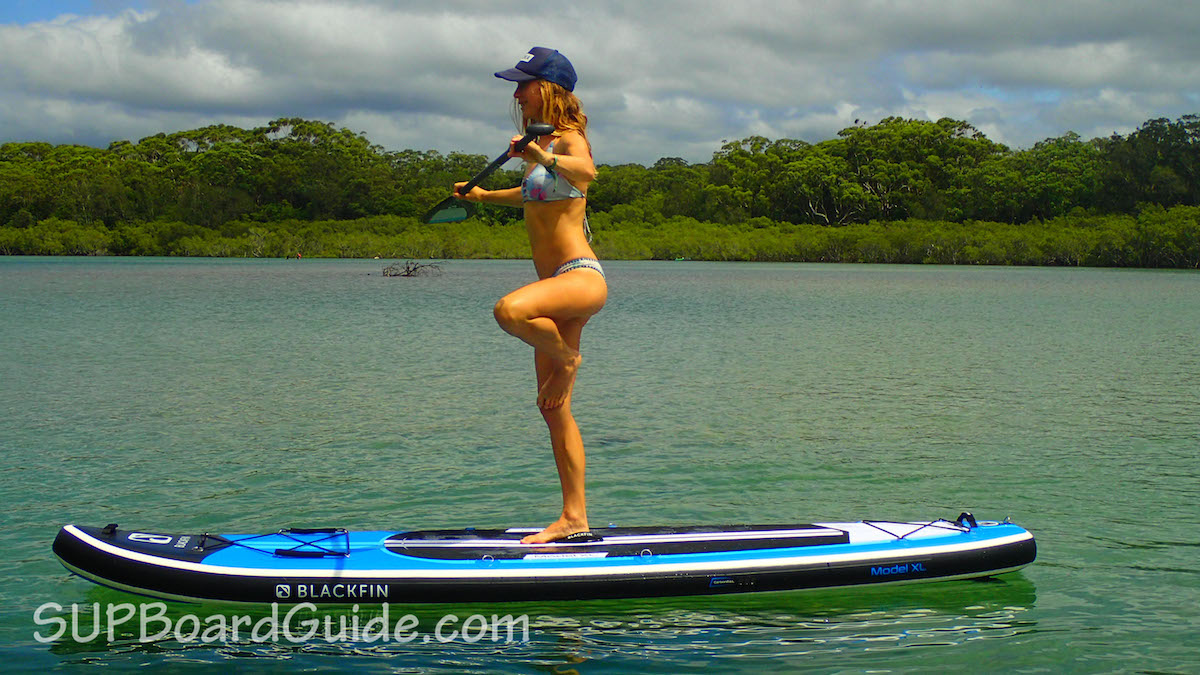 What I did enjoy doing was jumping around like a nutbag on it. I put it's stability to the test by literally jumping up and down like a fizzy drink-fuelled child. I couldn't believe how much it barely rocked on the water.
If you are a beginner, you can't get anything more stable to start out on. You'll also feel safe making mistakes. No worries about hitting things, this board is bulletproof. As parents, it's a big plus being able to bring your kids for a paddle and with 485 lbs max capacity it's entirely do-able. The guys at iRocker have also put handles on the bungee cord up front with kids in mind. It gives them somewhere to hold on for their safety and your peace of mind.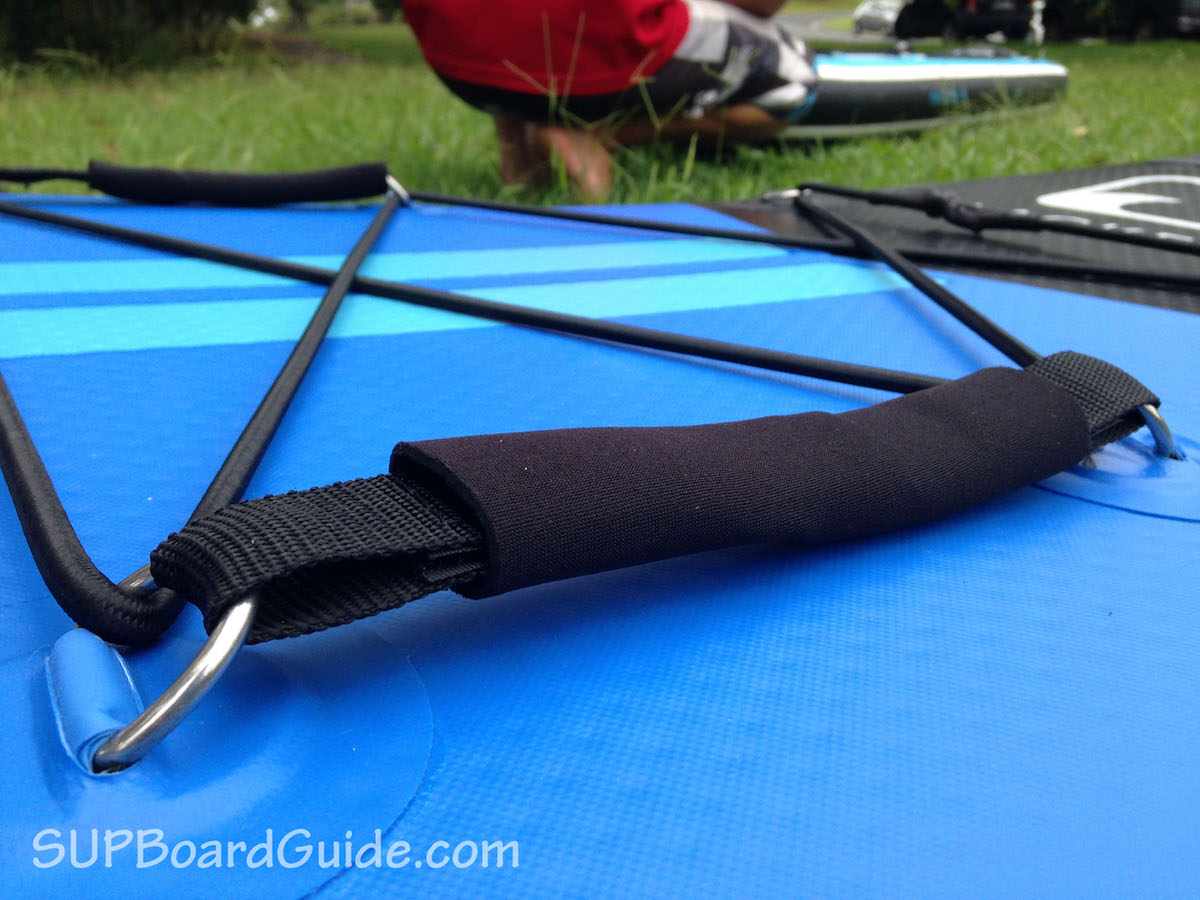 It's a bit too wide and thick to be tackling waves, you're more likely to become one with the than you are to carve a face. Unless that is you have some small waves somewhere that it's a consistent take-off like at point breaks.
You definitely will love this board for cruising or touring though. As I mentioned earlier it's not the fastest board but if it's stability and comfort you are after, then you'll always need to sacrifice a little on speed. It has heaps of storage on the deck too, so even overnight SUP campout trips on a river are a possibility!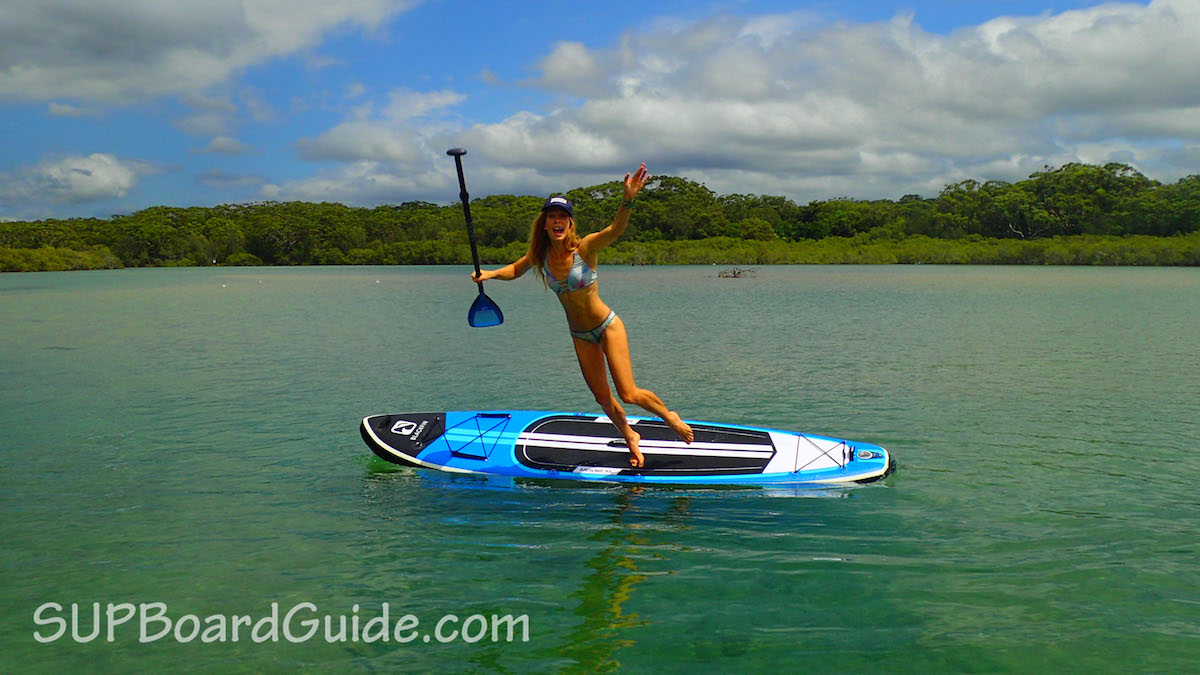 If you are super adventurous, you could test your skills on light rapids. There's easily enough stability and if you remove the large centre fin, it's tough enough without a doubt. You may find it not as responsive as it's smaller cousin the Model X though. Depending on who you are (skill) and how intense the rapids are, this may or may not matter.
The ideal use for this SUP I think would be using it as a tour/cruiser style of board, especially in areas with submerged objects like rocks and trees. Then it could also double as a yoga or fishing SUP, given it's 34" width is a perfect platform for both. Family time with your kids or with a pooch would be fun too!
Board Design + Materials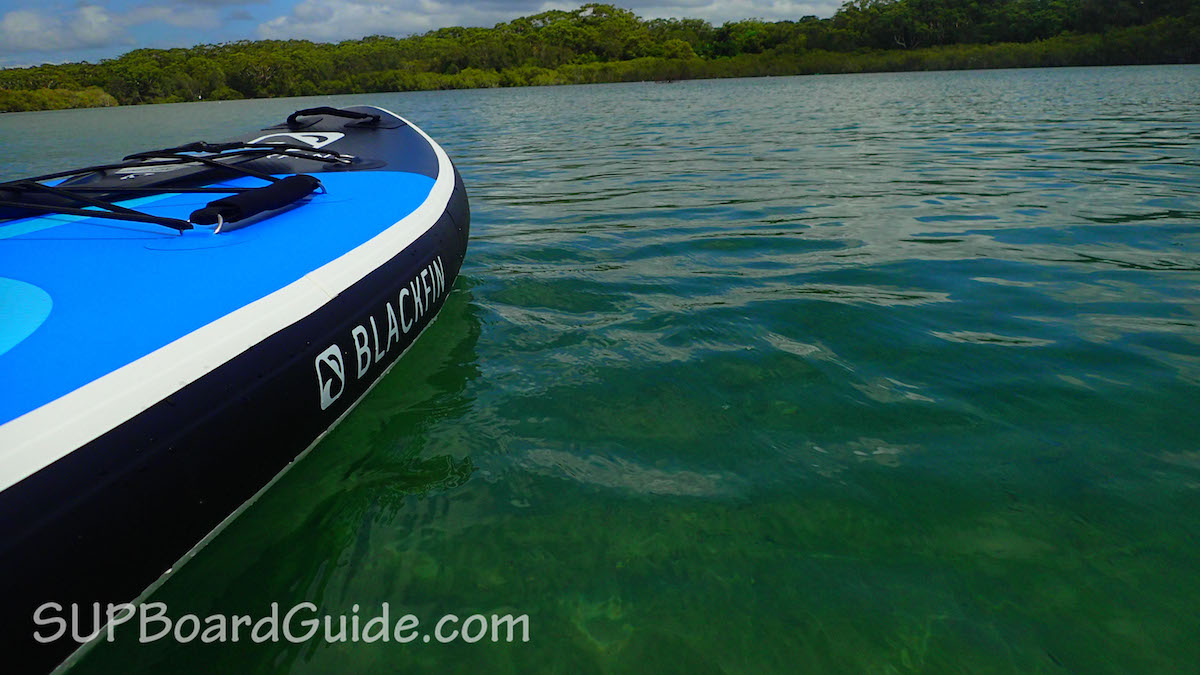 As mentioned above this is board is bulletproof. A few factors come into play.
Firstly, is the drop stitch core which gives the board its ability to be inflated to high pressures and increase it's rigidness the higher the inflation. Drop stitching refers to the technique used between two layers. Thousands of threads are weaved between layers and once they stretch to their full length they just become tighter, improving the rigid feeling beneath your feet.
Secondly, layers of military grade PVC are added. In the Blackfin models as well as the 2018 iRocker range, it's a quadruple layering. On the Blackfin models, the walls are then reinforced with carbon. You can see this in the little windows next to printed "Carbon rails". The combined rails and 4 layers of PVC makes this board indestructible.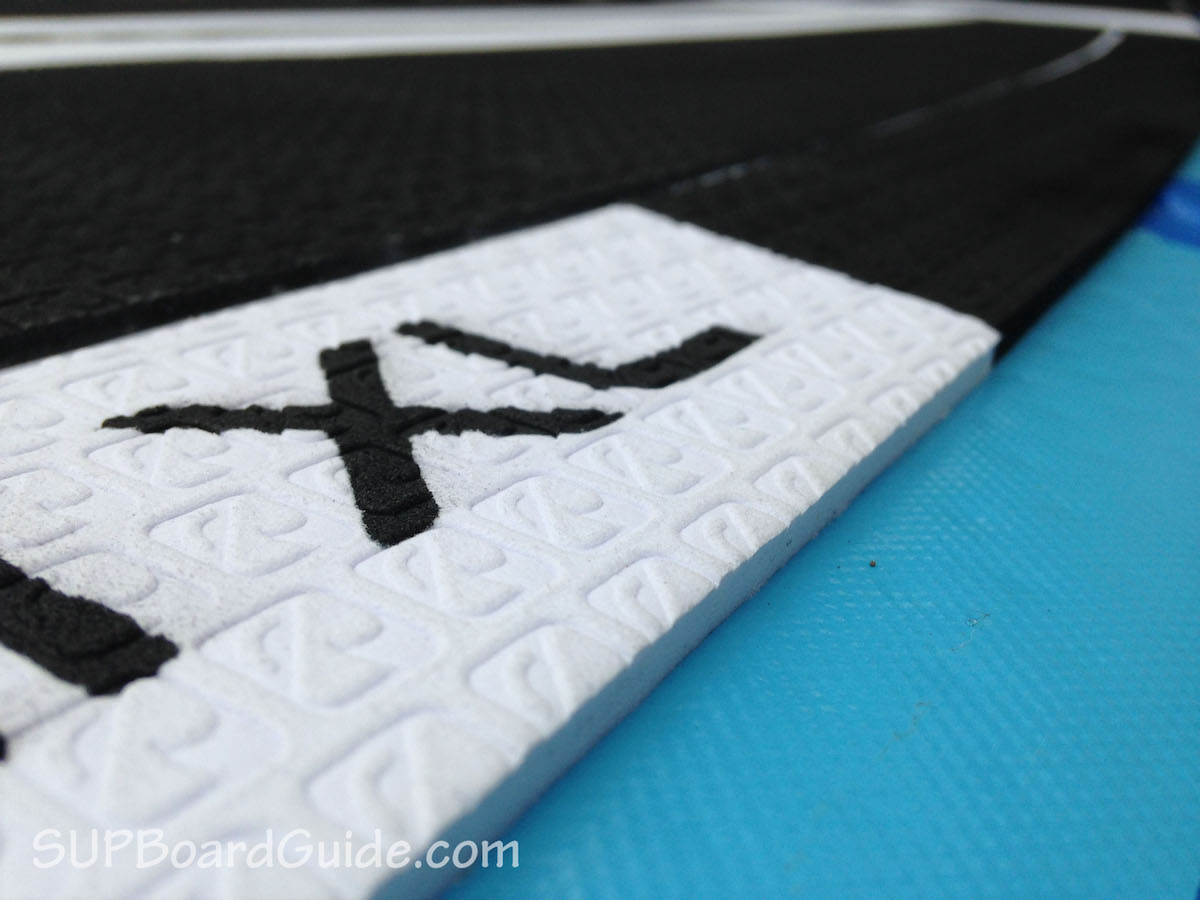 Lastly, on top is the deck pad. You'll notice it's different to others. That's because the grip formation is actually the blackfin logo! Which is a cool touch! It's not as grippy as the diamond pads but it's more than enough given how stable this board already is.
The only part I feel the need to mention that is a downer is the extra weight. The Blackfins are a bit heavier than previous models, but I think it's justified by the extra performance/durability and extra materials do mean extra weight.
Looking at aesthetics, the color is super suave. You'll definitely standout. It's also a great neutral color scheme for all types of personalities. This is the first of the Blackfins so perhaps that's why there is only currently one color scheme, I wouldn't be surprised if they come out with more choices later on.
Another aesthetic appeal is the shimmer that appears on the black nose, sort of makes the board look like it's wet. I Imagine after a little bit of time, that same shimmer will keep the board looking brand new.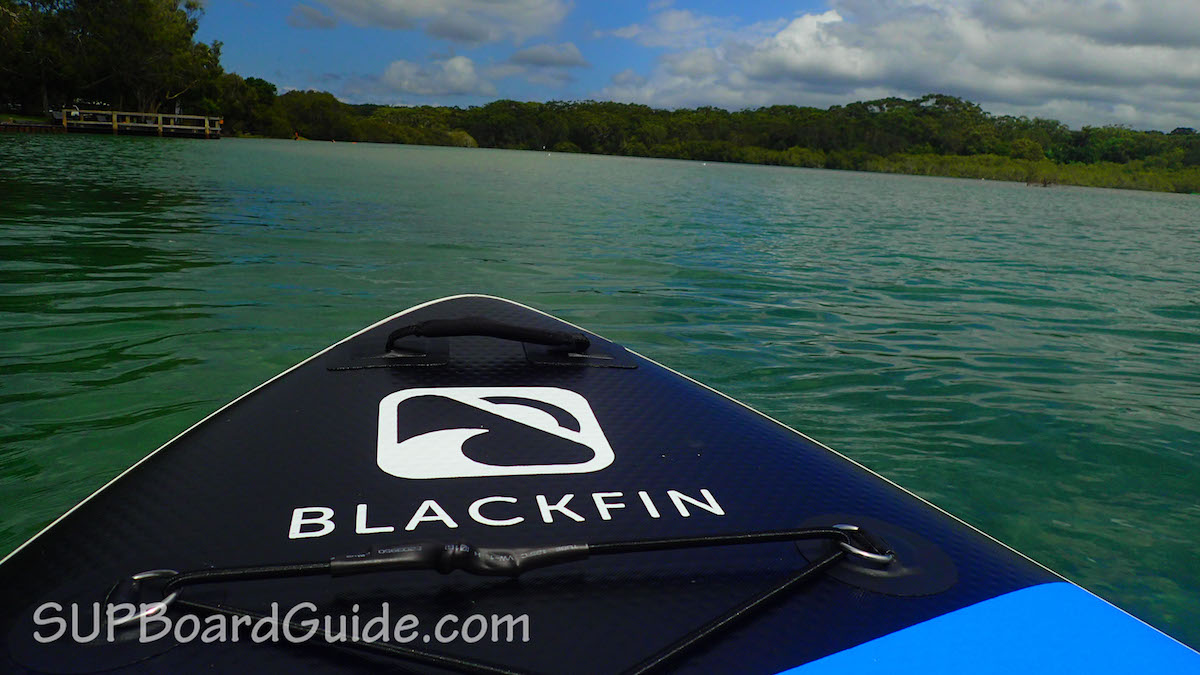 Now, let's play a game! How many D-rings can you spot?
16! Is the correct answer.
4 in the middle of the deck for the optional kayak seat, 6 up front and 4 on the tail with bungee cords on both for storage. The final 2 can be found under the nose on the tail. The tail D-ring is for your leash and the nose for towing.
Features
Fins
The fin setup is always a point of discussion. Maybe not as a beginner but as you advance, it's one of the first things you'll start to notice the difference in.
I would love to see this SUP with the option of being purely a single fin. It's so big and wide that it shouldn't take away from the stability too much. You also won't often be taking it in waves or heavy rapids where you want side fins for maneuvering. Being able to use it as a single fin would improve speed.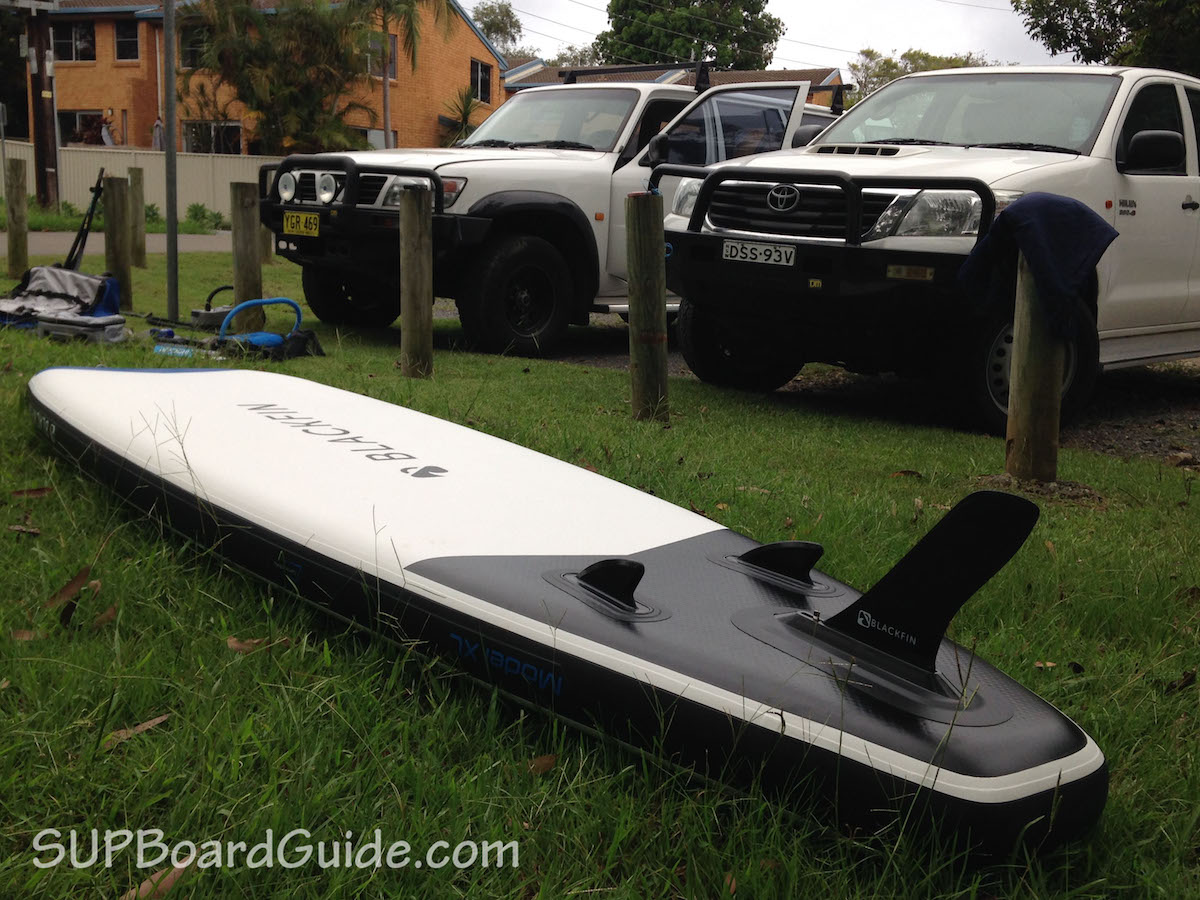 Saying that the current setup is great too. The fins feel strong and the removable centre fin is easily inserted with a screw and plate to secure it. They also have other fin options to best suit your paddling conditions. There's a 3" for super shallow conditions and 4.6" for shallow conditions but it delivers more control over the board than the 3" Then it jumps up to the 8" and 9" tracking fins for touring. All fins need the screw and plate though.
There an FCS fin the Connect II that is compatible with the Blackfin US fin box system that requires no tools. If you want to invest in one of them, it's a separate purchase outside of iRocker.
Inflate/Deflate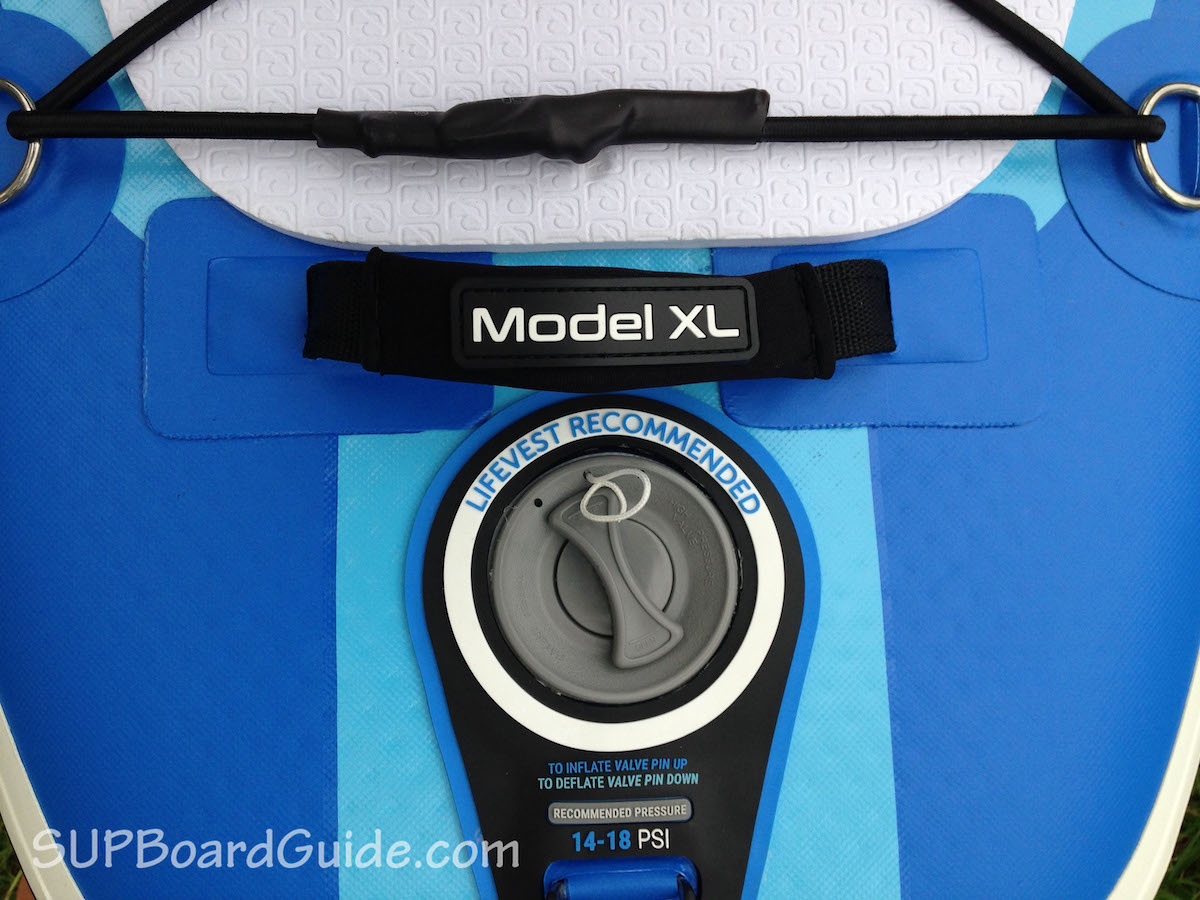 If you'd like to inflate your SUP which we do recommend you'll need 5 minutes of your day and your arms.
Simple, straight-forward inflate and deflate. To inflate, make sure the pin is in the "up" position. You'll quickly know if it's not. To deflate, push the pin in, twist to keep it pushed in and let the air escape on its own for a bit. Then as you roll, keep the pin pushed in and you can push the air out while rolling your board up.
The bonus with the Blackfin, so long as you are using the included Blackfin pump is that it's done in half the time as any other pump. Maybe minus an electric one.
Accessories
Paddle
Suave as the board itself is the carbon shaft paddle. It's got the same shiny matte finish like the nose of the boards and printed with the blackfin logo. Makes it looks very professional indeed! Even better it handles like a pro.
It's light at 32 ounces which is 2 ounces less than the other fiberglass paddles iRocker provides! The handle has a nice rubber grip for your comfort. You can adjust your paddle to match your height from the 72" – 86". Which is helpful if you intend to share this board too.
I particularly like the dual-pin lock they use for the height adjustment too. While a simple clasp is quick and easy, sometimes I put it on slightly crooked and my OCD can't handle it. Here or there it's okay but if you paddle nearly every day, it gets monotonous finding that perfect middle.
If you intend on travel or space is an issue, the paddle will break down into 3 pieces and store away easily. And while it's being transported or if you use it to push off things, it should stay in good condition. The edging on the blade is built to withstand extra impact.
Leash
Also branded to match the rest of your gear is the leg rope.
It's lined with a comfortable soft material for your ankle, and there's a secret stash spot on the end of ankle strap for your keys.
If you have a choice, always go with a coiled leash for your SUP adventures because it diminishes the chance of the board snapping back at you if you were to fall off with force.  The coil allows the leash to stretch and absorb more of the impact than straight ropes.
Backpack
Depending on where you go with your SUP, the bag it comes in can be a huge factor in your purchase. If you live on the water and don't ever even pack your SUP away, well perhaps it's not so important. Now if you travel, a bag that's comfortable to use and that will last should be a priority.
Unfortunately, many SUP bags are just for the necessity of including one. Not the blackfin bags though! iRocker bags already have a good rep, but these Blackfin bags just blew me out of the water.
Why?
They are made of thick material so you know they won't rip on first use
They can be wheeled, carried (side handles) or put on your back like a backpack
The wheels are off-road 4WD mini tractor beasts
There is room for all the extras (minus the pump) in the front pocket
SO much padding
They look great!
I fit inside them and can scare people easily by doing so
Cinching straps inside to help keep the board in place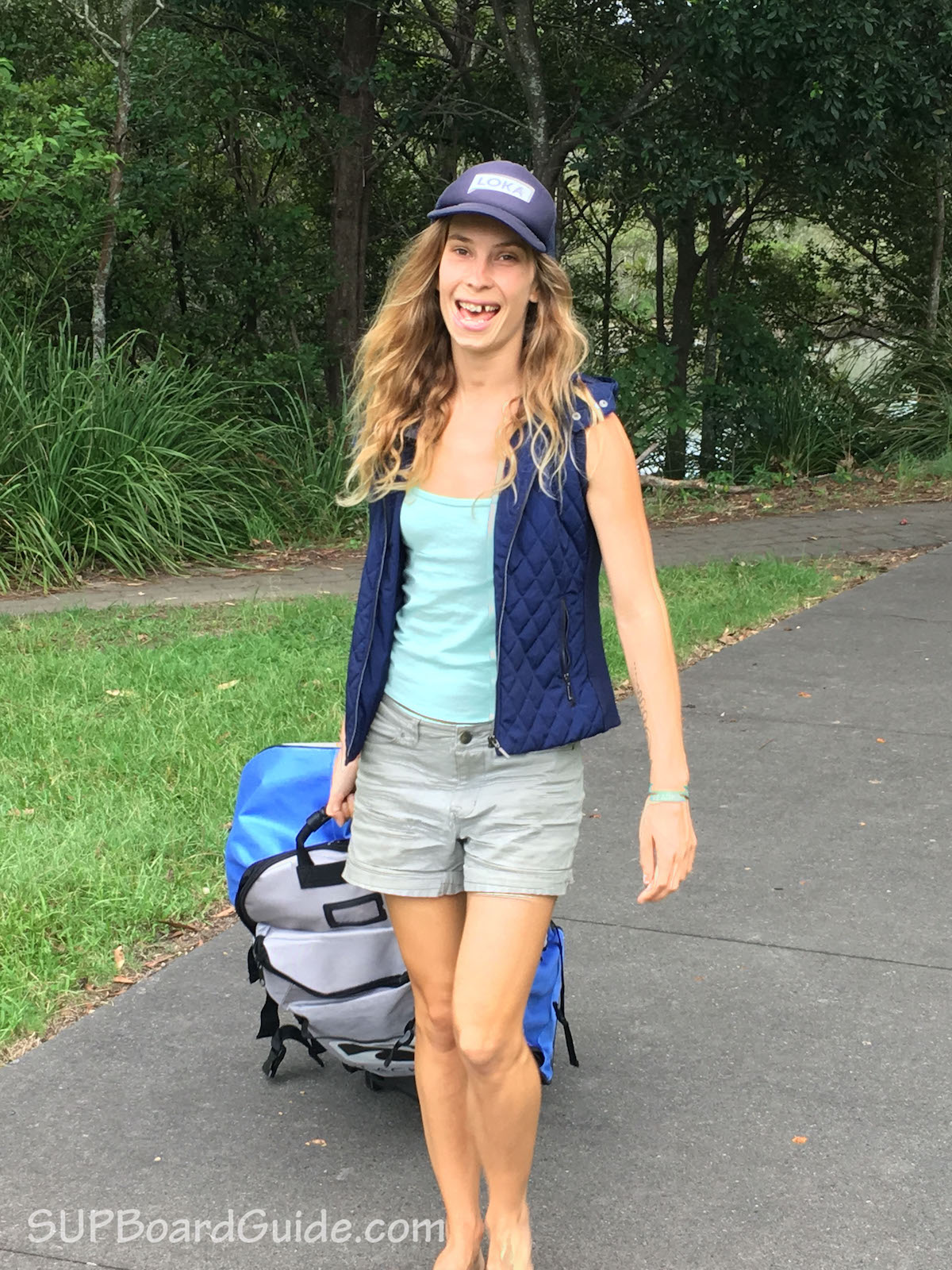 Pump
Get ready for the new improved triple action, high pressure, double chamber pump.
It gets the job done in half the time and a minuscule amount of effort. Well compared to other pumps. I still get huffy, but that may be because I'm lazy and use an electric unless I'm reviewing a product.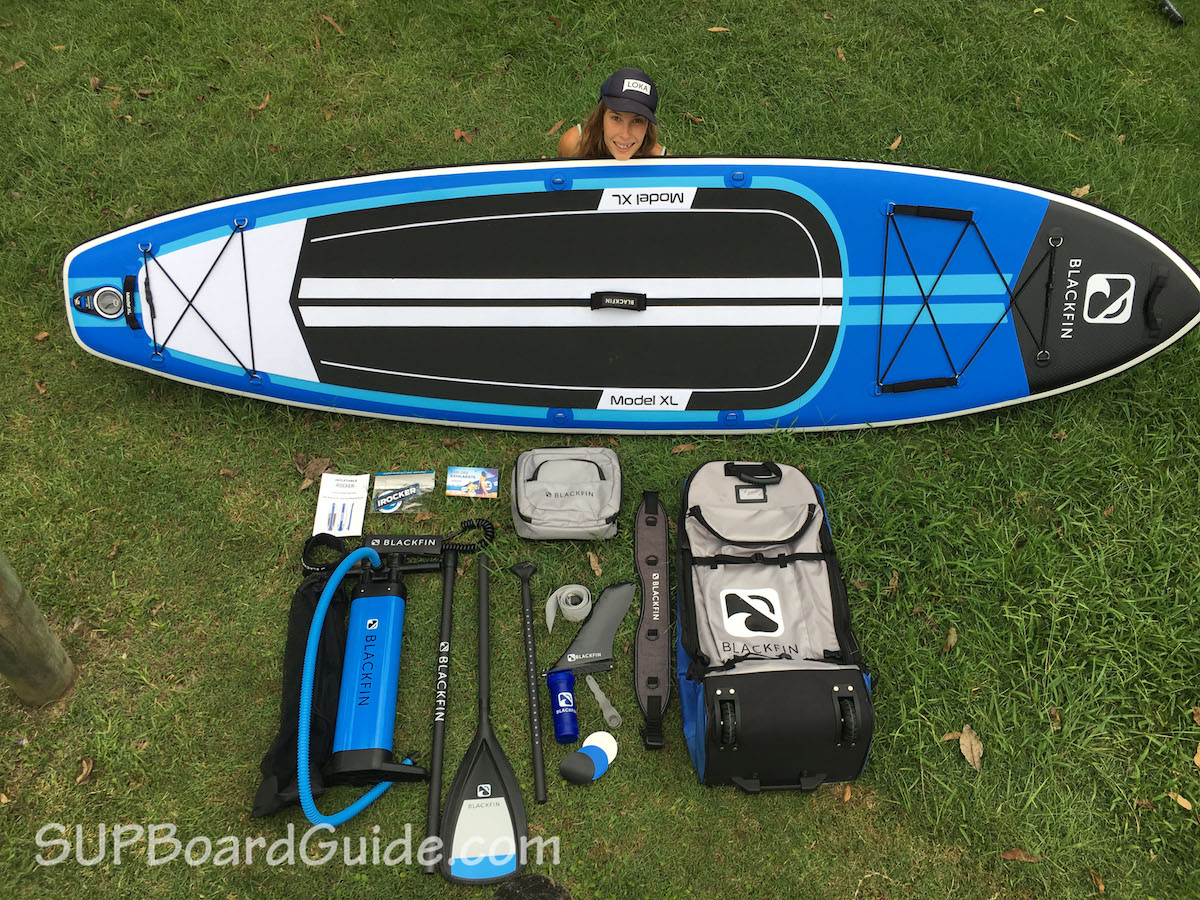 The triple action is clearly printed and numbered so you can easily switch between actions. There is not "set" PSI to switch, just more so when you start to feel it's too difficult to keep pumping. Obviously the less resistance, the longer it will take, so you just need to find your perfect balance!
I like to give pumps a real strong go when I review them so that I can test out the materials they are made with. Seeing as I'm a 55kg girl, I know some of you strong men out there would be pumping harder than I. So if I was to say "it hardly moves under my weight when I push down!", you may then call me a liar. I put on my hulk mask and go for it. This pump withstood its test. Felt super strong and rigid through the base and up to the handles.
I can't stress enough how good this pump is. The only comparable pump that is included with a board is Red Paddle Co's Titan pump. And Red Paddle Co boards are about twice the price of a Blackfin….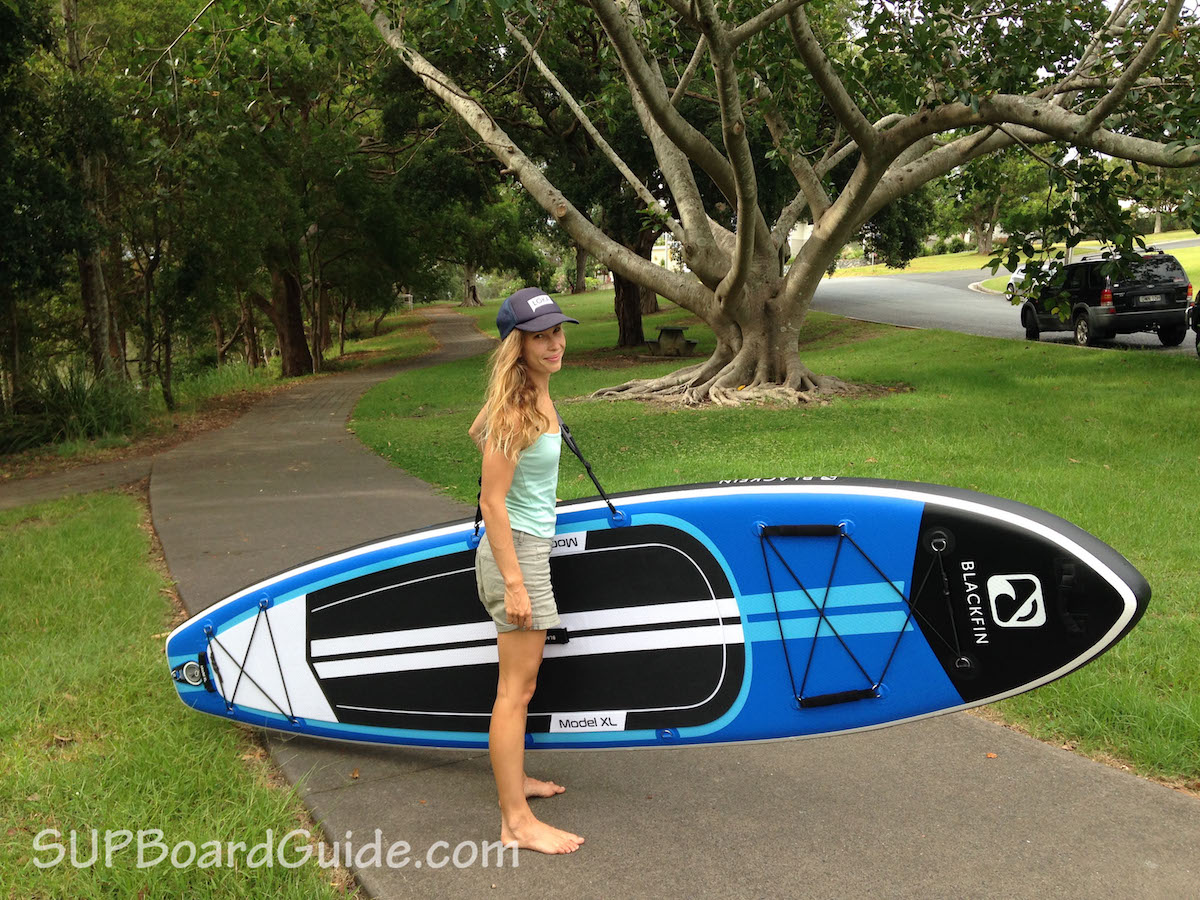 Extras
The following are all branded with the Blackfin label and available as a separate purchase
Kayak Bundle – A nice addition to the Blackfin bundle compared to the iRocker is the bag on the seat. The Blackfin kayak seat has a bag on the back for extra storage and easy access. Then also the paddle is a carbon shaft.
This kayak bundle is a perfect accessory to really make the value of your purchase stretch!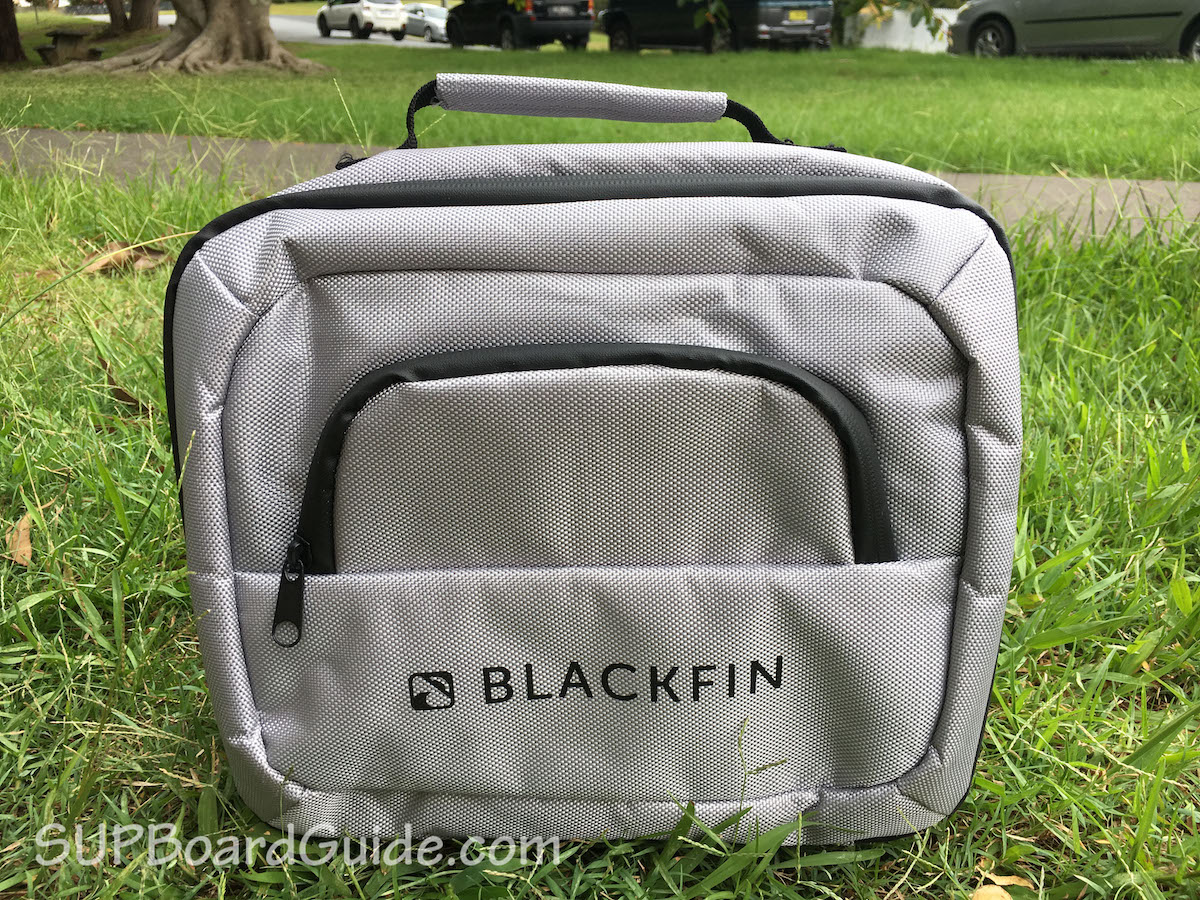 Cooler Bag – Easily attached to any bungee area is the cooler bag, It'll keep any snacks fresh and dry – so long as you don't completely submerge the bag! It's perfect for long trips to store water, food or puppy treats! Detaching can be finicky but that's kind of what you want/need.
Carry Strap – For those who find it difficult to carry boards, perhaps smaller riders, then the strap could be for you. It attaches to the middle D-rings on the board and is seriously comfortable. The underside of the strap is a soft rubber, so there's no chafing or digging into your shoulder.
Conclusion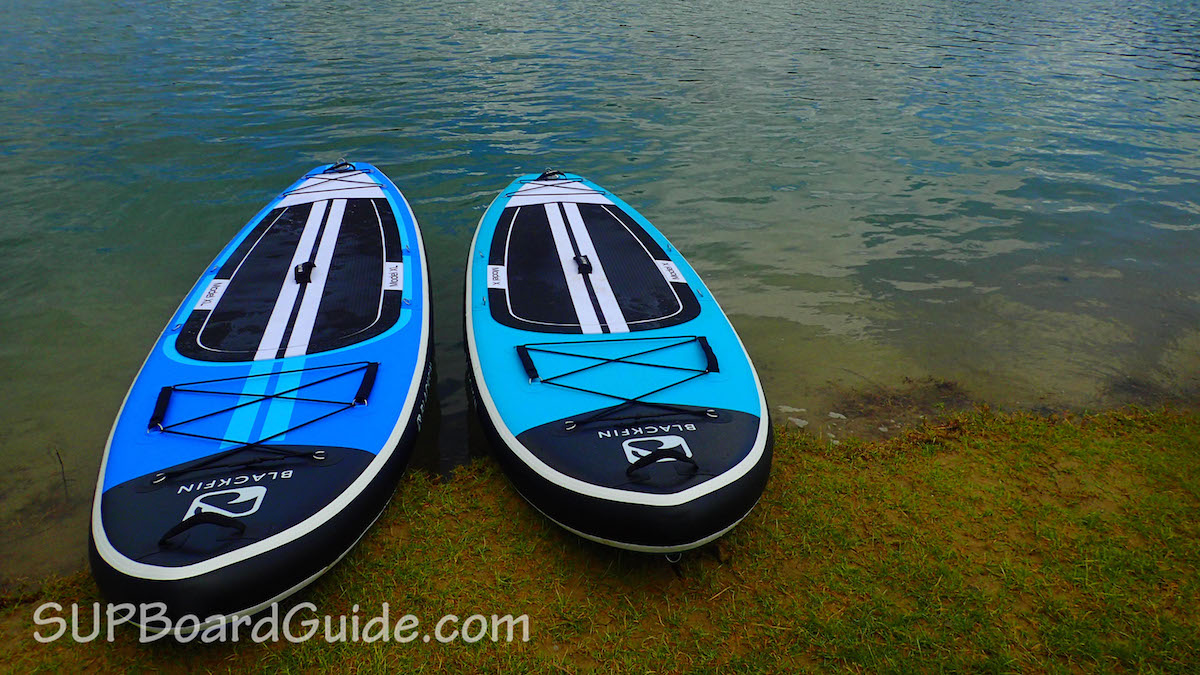 This is possibly the perfect family SUP board. It's got a huge weight capacity, is extremely wide so therefore stable with extra passengers and even has those handles on the nose for your kids to hang onto.
But also an ideal fishing SUP or even just a general cruiser. If you're looking for speed on your tours but still need stability, you're better off looking at the All Around. If you are worried about the weight capacity, the 11' All Around should be good for you.
Now, if you want a sturdy board that you'll have no fear bouncing off objects with, something that can hold LOADS of weight but still performs as well as other boards in the iRocker range. the Blackfin Model XL should be in your trolley. The Model X is much the same but less capacity and little less stable (still one of the most stable SUP's I've ever been on) but then, of course, has more speed and maneuvering qualities. If you're looking for a fast and sporty board the iRocker Sport is the one you definitely want to consider.
For an affordable price and high-quality accessories to go with that cost, it sort of gives you that feeling of "okay what's the catch". I think that iRocker just is a passionate company. They care about their products and their customers. They've always been a fantastic bunch to deal with.
They also will stand behind their products with a 2-year warranty! We definitely feel confident saying that Blackfin boards currently offer by far the best value for money.
Please let us know if you try one out and what you think!
The following two tabs change content below.
SupBoardGuide
Heyo! At SupBoardGuide.com we are a team who love the water, the outdoors, and are more than grateful that our full-time job allows us to review stand up paddle boards. We paddle year round (it helps that we are just about 2 hours outside of Las Vegas), and we bring in a wide range of paddlers with the goal of providing our readers with the best, most in-depth, and accurate stand up paddle board reviews.
Latest posts by SupBoardGuide (see all)