Built using real bamboo, the BIC C-Tec Classic Wood series combines classic wooden longboard shapes and lines with the needs of recreational paddle boarders.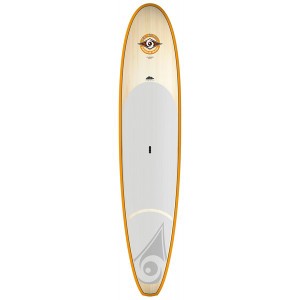 This means the board is great for all purpose flatwater use, cruising and recreational purposes.
The advantage of this board, besides the classic appearance, is that it is also designed to perform in the waves. We would not recommend it for racing or long distance touring though.
When people initially hear that wood is part of the construction, they may assume that it is too heavy. A heavy board is not usually ideal for family use or traveling.
But this board is made from lightweight, and super strong, bamboo. It weighs only 33 lbs, and that's for a 12 foot board. The Classic Wood Series also comes in 11′ and 11'6″ sizes. The size range can accommodate riders up to 280 lbs. The C-Tec range also includes a Wave Pro series.
See the BIC C-Tec Classic series in action:
These shapes offer moderate nose and tail rocker for control and maneuverability in the surf zone and a flat middle section for efficient paddling and directional control in flat water.
All BIC C-Tec Classic boards feature full glass single center fins and BIC's premium diamond groove EVA deck pads for comfort.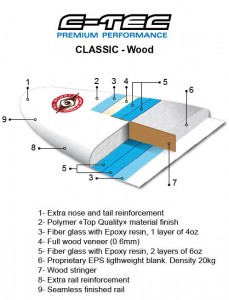 The construction of the Classic Wood series includes a lightweight EPS core, fiberglass and epoxy layering, full wood veneer, and polymer finishes. There is also added reinforcement at the  tip and tail of the board.
Board Specs:
| | |
| --- | --- |
| Length | 12′ |
| Width | 33″ |
| Thickness | 5″ |
| Weight | 33 lbs |
| Fin | FCS Dolphin 10″ |
| Board Weight | 33 lbs |